Shops and shopping centers in Tashkent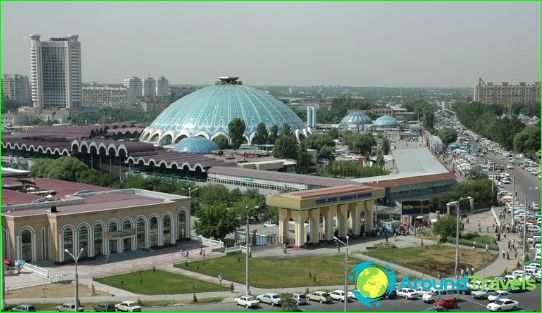 Tashkent is not only the capital of sunny Uzbekistan, but also the business and cultural center of the country. And of course, there are many opportunities for pleasant shopping in the bazaars and shops of the hospitable city. There are many boutiques of European brands in Tashkent, but it is worth remembering that prices are not cheap. The bazaar is the heart of any eastern city. This is a place for meeting, entertainment and of course shopping..
Trade points in Tashkent
«Eski Juva» or «Chor-Su» - near the Kukeldash madrasah. Here, under the turquoise dome, mostly grocery merchants settled down. Chickpeas, peas, rice, oriental sweets and dried fruits, spices - the products are eye-catching. If you have nowhere to put your purchases, here you will also find wicker baskets made of willow or vines. Fight off traders, choose, bargain - you are at the eastern bazaar. There are many outdoor benches around the covered part. Here there are Uzbek clothes - skullcaps, chapans, shoes; oriental fabrics - soft silk and stiffer satin with a national Uzbek pattern, costumes and jewelry for belly dancing, as well as ordinary inexpensive clothing.
Art Center «Tashkent - Plaza» - it is an exhibition and sale of works of decorative and applied art. Located on Amir Temur Avenue near the international business center. Here you can not only buy amazing things, ready-made and to order, combining ancient traditions and modern trends, but also get acquainted with the basics of their manufacture. Masters will teach you how to knead natural paints and write miniatures on silk paper or papier-mâché, make carpets, introduce you to Uzbek embroidery and hand-applied traditional ornaments on fabrics, teach you how to work with wood and metal.
Amir Temur Avenue is a shopping street with many branded stores: Victoriya Secret, Zara, Enrico Marinelli, Nike, Aty-Bata shoes, etc..
«Glamur» - store with expensive European goods of clothing, footwear, etc. It is noteworthy that it is divided into male and female halves in oriental style. Nearest metro station Tashkent.
«Snobs platinum» - in this store near Aybek metro station you will find brands such as Ermenegildo Zenga, Calvin Klein, Morschino, D&G, Kenzo, etc..
Mall «Mega-Planet» - the first shopping and entertainment center of the city was commissioned by trade fighters in 2010. The first floor of the center was given to food products; on the second and third - clothes, shoes, jewelry, perfumes, cosmetics; fourth floor - entertainment area, 3D and 5D cinemas. You can eat on the fifth floor.
Tashkent department store - it used to be called «TSUM», metro station Cosmonauts. It is located near the Navoi Theater. Designed mainly for foreign tourists with limited time, so prices are high. Convenient when you need to quickly buy a large number of souvenirs. Offers souvenirs, real Uzbek household utensils (bowls, lagans, etc.) and all other common department store goods.