Independent travel to the Vatican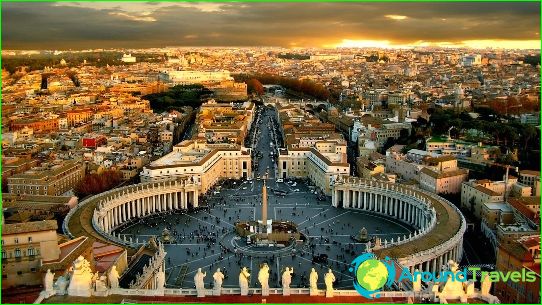 For an independent trip to the Vatican city-state, you only need a Schengen visa and a great desire. Everything else will certainly be applied in the very heart of the Catholic world, where the blessing of the Pope can be received on Sunday afternoon, just by walking along the main and only square.
When to go to the Vatican?
A visit to the capital of Catholics can be made at any time of the year, because the climate of Italy, on the territory of which the Vatican is located, makes it possible to rest comfortably both in winter and in summer. July-August is the hottest time when thermometers often reach +35 degrees. But it is always cool under the canopy of St. Peter's Basilica, and the optimal temperature for preserving the magnificent paintings of the Sistine Chapel allows visitors to feel comfortable in any season. But Christmas in the Vatican is a great occasion to enjoy not only the view of the main Christmas tree of the Catholic world, but also warm days in the Eternal City.
How to get to the Vatican?
Located in the heart of Rome, the Vatican is easily accessible by plane. Rome Fiumicino Airport receives many regular flights of various airlines from Moscow. In order to get to the center of Rome and to the Vatican, you will have to cover 30 kilometers by special buses or electric trains that leave directly from the station at the airport. In Rome, they arrive at Termini station, where you need to change to transport that goes to the Vatican - metro or buses. It's a pleasure to take a walk from the center of the Italian capital to St. Peter's Square on foot, using the map with the walking routes of Rome marked on it.
Housing issue
There are no hotels in the Vatican, and therefore its guests choose hotels in Rome. The Italian capital is not the cheapest city, and hotels of 3 * and higher categories can seem quite expensive. Economy hotel options in Rome are "two star" hotels or hostels like "B&B".
Argue about tastes
There is simply nowhere to dine fully in the Vatican - cafeterias at the city-state museums can only offer coffee and snacks or sandwiches. That is why travelers prefer to "cross the borders" and dine in Rome without mixing spiritual and material food in the holy city..
Informative and fun
The main masterpiece of the Vatican is the majestic Cathedral of St. Peter, which can easily fit any temple in Europe. From the top of its dome, grandiose views of the Eternal City open up, and its niches store the best creations of famous sculptors and painters.
The second significant building of the Vatican is the Sistine Chapel, the vaults of which were painted by the great Michelangelo. Fans of landscape design masterpieces should take part in guided tours of the Vatican Gardens.
Photos of the trip to the Vatican