Transport in Ho Chi Minh City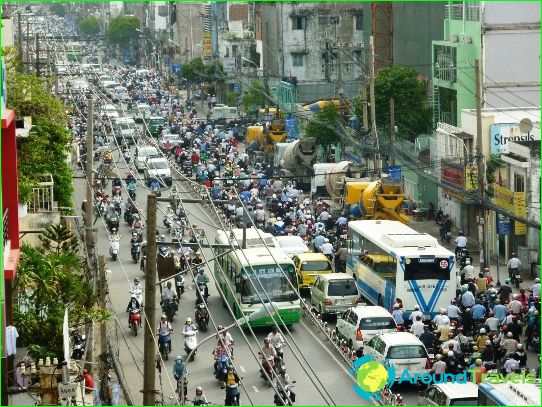 The transport system in Ho Chi Minh City is remarkable for its amazing development, thanks to which tourists can easily get to any interesting place in the city..
Buses
The bus network is currently served by thirty different companies. The number of routes reaches 115. By bus you can get to any place in Ho Chi Minh, but you should know the route. In order to track the route, it is customary to place a traffic pattern in the cabins of the buses, presented in the form of a sequence of city streets and stops, and outside you can see the route number and the name of the starting and ending points, but only in Vietnamese. Most vehicles have a high level of comfort, because they may have air conditioners, TVs.
The fare depends on the length of the route. Moreover, the minimum price is 5000 VND. Be prepared for the fact that it is customary to pay extra for large baggage.
Taxi
Many tourists note that transport in Ho Chi Minh City is developed, but at the same time they prefer taxis, noting the high speed of the ride and the ability to get to any place in the city in the shortest possible time. In each case, the cost is indicated per kilometer. In order not to fall for the tricks of scammers, you should give preference to reliable firms.
Mai Linh. Cars are white, silver or green, and there may be a green lettering on the windshield.
Vinasun. Cars are made in white and are distinguished by the presence of a green, red lettering.
Vinataxi. Cars of this company are yellow.
Savico. Cars are blue.
Taxi Future. Cars can only be silver.
Petro Vietnam. In this case, you should look for a silver car with a green lettering.
Petrolimex. There are two types of cars: white with blue or orange lettering.
Be prepared for the fact that fake companies are operating in Ho Chi Minh nowadays. Show maximum attention! You can take a motorcycle taxi if you want to feel the adrenaline and enjoy the high speed. The price should be negotiated before starting the trip.
Transport rental
You can rent a motorcycle. Remember that in Ho Chi Minh City it is customary to report the cost of rental per day. It's easy with motorcycles, as the police make concessions to tourists. To drive cars legally, you need a driving license issued in Vietnam.
Photos