Vietnam sea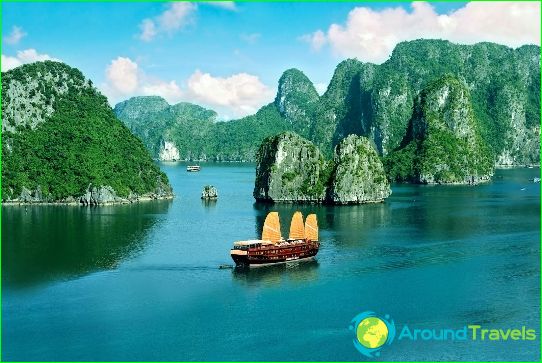 Even a long flight to Southeast Asia no longer bothers Europeans, who are diligently exploring mysterious Vietnam after Thailand and Cambodia. There is enough exotic here, and the sea of ​​Vietnam is a great way to relax after a long journey, relieve stress and plunge into the abyss of pleasant impressions and sensations..
Comfort zone
When asked which sea washes Vietnam, geographic atlases give the only correct answer - South China. It is part of the water basin, which experts call the Australian-Asian Mediterranean Sea. This name was born because this reservoir connects these two parts of the world, and the sea of ​​Vietnam itself represents both the Indian and Pacific oceans at the same time..
The water temperature in the South China Sea depends on the geographic coordinates of the measuring point and the season. In the north of Vietnam, it can drop to +20 degrees in winter, while in the south, even in January, the thermometer will show at least +25 degrees. In the summer months, the sea is equally warm and comfortable throughout the entire area and its temperature values ​​are kept at around +27 degrees.
The wealth of the deep
When asked what seas are in Vietnam, divers will willingly answer - «Most suitable for diving». It is the South China Sea that keeps many interesting sites, which thousands of fans of the underwater world come to see every year. An important reason to fly to the sea of ​​Vietnam is the price issue: by all accounts, diving here is cheap, but well-organized.
The main «stars» diving in the South China Sea:
Octopuses. Some individuals are quite worthy of acting in horror films, but at the same time they remain quite friendly.
Clown fish that make underwater photography especially successful with their painted appearance.
Stingrays and manta rays, mesmerizing with their silent and smooth underwater gliding technique.
Moray eels and barracudas, absolutely not dangerous if you follow all the rules of underwater swimming.
The most attractive places for diving in Vietnam are Phu Quoc Island and the resorts of Nha Trang and Hoi An. The most favorable season for scuba diving in the sea of ​​Vietnam begins in late autumn and lasts until the first days of summer.
For sunbathers
The beaches of Vietnam are fine and clean white sand, clear water with a gentle entrance and excellent infrastructure on the shore. Here you can always dine in a cafe or restaurant, and the menu will be based on the freshest seafood and fish caught in the morning by local fishermen..
Photos of the coast of Vietnam