Observation decks of Kaliningrad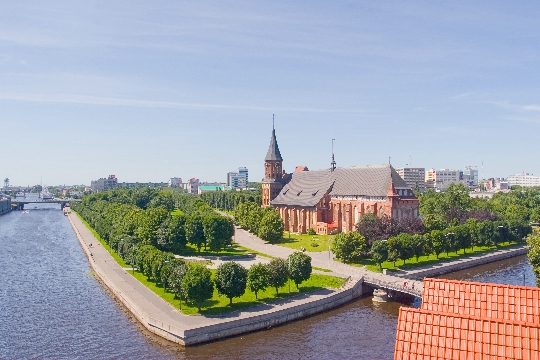 Don't have enough time for a walk that allows you to explore all the sights of the city? Pay attention to the observation decks of Kaliningrad, the ascent of which will allow you to see almost all the famous objects (Brandenburg Gate, Amalienau district, Sagrada Familia church, Holy Cross Cathedral) in a short period of time.
Viewpoint "the Royal Castle"
Since the ruins of the Konigsberg Castle are open for tourists, those who come here will be able to see an interesting exposition (underground structures of the Western Wing; an open area with large architectural details found). But the best time to visit is to hold historical holidays, when shooting competitions (crossbow, bow), knightly duels and special events for children are held here, a military camp with tents and a craft fair are set up. Ticket price - 50 rubles.
Address: Shevchenko street, 2
Fishing village
Of its 14 properties, the most attractive are the following:
View tower "Lighthouse": You can get to the observation deck of this tower, 33 m high, by overcoming 130 steps. From here you can see the Kant island, the Cathedral, the ancient fortifications. In addition, here you can look into a cafe and a shop with souvenir products, as well as visit an exhibition where you can see a collection of weapons of the 19-20 centuries..
View tower "Lomse": its visitors will be able to admire the best beauties of Kaliningrad - the Kant Island and the Pregolya River.
Drawbridge Pedestrian Bridge (Jubilee Bridge): This romantic place, decorated with tracery lanterns and a fence, is ideal for walking and dating.
In addition, guests should take a ride on the river on a pleasure boat, as well as attend ethnographic festivals ("Day of the Konigsberg cat", "Artisan day"), settling on the territory "villages".
How to get there? At the service of travelers - route taxis No. 92, 80, 72, bus No. 45 (address: Oktyabrsky Island, Oktyabrskaya Street, 8).
A restaurant "Terrace"
This restaurant is popular with lovers of Italian and European cuisine. In addition, while relaxing in the restaurant, guests admire Kaliningrad from the panoramic windows, in particular, Victory Square and the Cathedral of Christ the Savior (in warm weather, the windows open, making the restaurant an open terrace).
Address: Professor Baranov Street, 34 (TC "Acropolis", 7th floor).
Photos