Bolivian traditions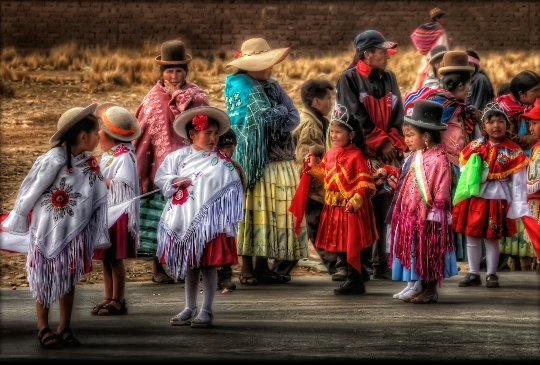 The Plurinational State of Bolivia is not a set of epithets attached to the name of a country, but its official name. Its validity is also confirmed by the number of state languages: there are thirty-seven of them here, and this figure is an absolute world record. But the traditions of Bolivia are not limited to such Babylonian pandemonium, and finding themselves in the country of lamas, salt lakes and Quechua shepherds, travelers immerse themselves in a real South American exotic.
Mountains, coca and ladies in hats
The main sign that you are in Bolivia is the endless mountain landscapes of unprecedented beauty outside the window. The country is called South American Tibet, because most of its area is occupied by the majestic Andes. The second sign that allows you to accurately determine your own geographic coordinates and height above sea level is coca leaves, which are sold everywhere here. Coca chewing is an important tradition in Bolivia, allowing you to get rid of the effects of altitude sickness and get a boost of energy in conditions of low oxygen content in the air..
But the ladies in hats are representatives of the beautiful half of the local Indian tribes. Their national clothes are bright and wide long skirts, elegant ponchos made of llama wool and hats, which will certainly complement their everyday costume. Huge shawls Bolivians use to carry children behind their backs.
Aymar New Years
Most of Bolivia's traditions are associated with respect for nature and land. The arrival of the new year among the Aymara Indians coincides with the solstice on June 21. At this time, it is winter in the Southern Hemisphere, and therefore many people in bright warm clothes are present at the ceremony. The holiday begins with a tasting of national dishes, after which the participants ask the sun and the deity of the earth to give energy to the future harvest. Local shamans actively participate in the ceremony, returning the world, tired over the past year, to a state of order and harmony..
The Aymara Indians traditionally settled along the shores of Lake Titicaca. This alpine lake is revered by the Bolivians as the birthplace of the gods, and therefore on the day of the arrival of the new year, all kinds of honors are also given to it..
Useful little things
Be sure to ask local residents for permission before photographing them. Religious Indians find this process offensive to the spirits guarding them..
According to Bolivian tradition, locals are not very sociable, especially with foreigners. The language barrier can significantly complicate the situation, as Bolivians hardly speak English. To avoid problems, use the services of an English-speaking guide or stock up on a phrasebook.
Photos