Brazil Holidays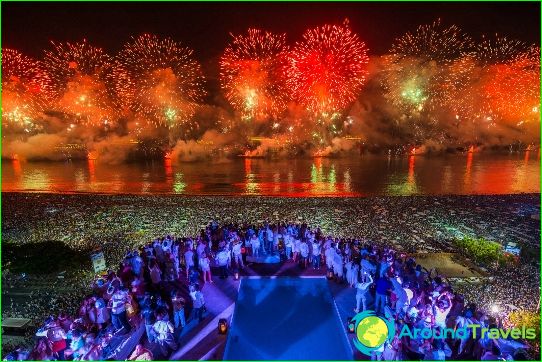 Brazilian holidays are very important for Brazilians, who celebrate them in a fun and noisy way, with songs and dances.
Festivals and holidays in Brazil
New Year: the night of January 1, someone spends at home, and someone - in clubs or restaurants, but in any case in a circle of a large and cheerful company. Those who go to Rio at this time throw white flowers into the ocean and admire the grand fireworks that "dissolve" in the waters of the Atlantic Ocean. On December 31, it is worth going to the beaches of Copacabana and Ipanema - here they see off the old year on a grand scale and conduct an interesting ritual consisting in launching boats into the water, on which they place lighted candles. In addition, the festive events are accompanied by dancing and fireworks..
Brazilian Beer Festival (October): During this time, the state of Santa Caterina hosts a beer marathon where participants run a 1.5-kilometer race, drinking a large beer every 300 meters.
Dirt Festival "Bloco da Lama" (February-March): all those who are not averse to splashing in puddles flock to the city of Paraty. Participants, putting on swimsuits, go to Lake Jabaquara with swampy shores (having plunged into it, anyone will become smeared with mud from head to toe). After that, a solemn march is arranged, accompanied by fun, dancing and singing, drinks and snacks..
International Museum Day (May): For 5-6 days it is worth visiting the museums of Brazilian cities in order to visit special exhibitions on the theme "Museum and young public".
Brazilian Independence Day (September 7): on this day, a military parade is held (the president is present at the parade in the capital), the Brazilian national flag appears on the city streets, solemn events with songs and dances are arranged for residents and guests of the country.
Event tourism in Brazil
Are you dreaming of going on an event tour to Brazil? Travel agency managers will organize a trip for you, involving a visit to Formula 1 in Sao Paulo, in Rio de Janeiro - Marathon, in Manaus, Belene, Sao Luis - Folklore festivals, in Gramada - the Film Festival.
So, it is worth visiting the Brazilian Carnival (February-March) in Rio. Here you will find theatrical shows, a samba parade (14 famous schools are fighting for the title of winners - their performances last 80 minutes), all kinds of contests and masquerades, as well as a spectacle at which the mayor will symbolically hand over the keys to the city to the "king of the carnival" (he is on for 4 days has the right to issue any laws, and the main law is unrestrained fun).
It doesn't matter if you come to Brazil during the period of carnival processions or festive events in honor of local saints, you will plunge into a special festive and colorful atmosphere.
Photos