Tours to Luxembourg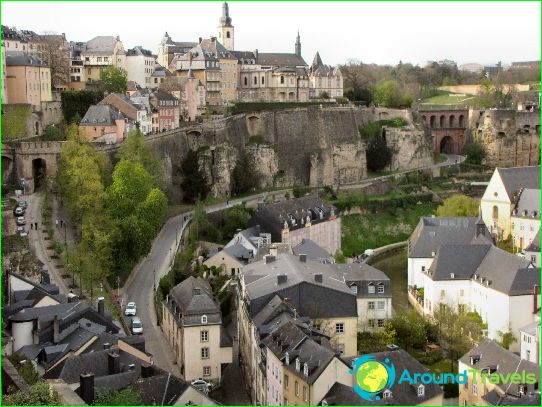 The Grand Duchy of Luxembourg is so tightly squeezed between its large and important neighbors that it is difficult to find it on the map of Europe right away. The name of the country comes from the German phrase "small town", which is not so far from the truth, because the size of the duchy does not even fall into the list of the first 150 countries on the planet. Nevertheless, tours to Luxembourg are very popular among lovers of calm European dimension, gourmet cuisine and good wines..
History with geography
The first people on the territory of the duchy appeared many millennia before the new era. In more understandable historical times, these lands were constantly divided among themselves by the Franks, Gauls and the Romans. The beginning of the duchy was laid by the Lisilinburg castle, fortified to the teeth and capable of repelling the invaders. Then the Habsburgs, the Spanish kings and even Louis XIV were in power until Napoleon took matters into his own hands. Today, the Grand Duke is in command, and the laws are passed by parliament..
The capital of the duchy bears the same name with him. It is located at the confluence of two rivers, and in its gardens and parks, participants on tours to Luxembourg can observe not only squirrels typical for Europe, but also chamois with roe deer. The temperate and mild climate ensures pleasant warm summers and fairly snowy winters. Frosts are rare, and summer temperatures hardly exceed comfortable +25.
Briefly about the important
There are no direct flights to the Grand Duchy from the capital of Russia yet, but a comfortable flight can be carried out via Vienna, for example, or Brussels. The total travel time does not exceed four hours.
Getting around the city, country and other countries that are part of the Benelux community is most convenient by using the Tourrail Pass trains or buses. Unified travel documents for both types of transport are sold in a variety of kiosks and shops. Car rental during a tour to Luxembourg is an expensive and not very convenient business, as parking in the Duchy is paid and it is not easy to find them..
Not too cheap for participants on tours to Luxembourg and local hotels. If you want to find a budget hotel, you can look for it in the list of family pensions.
The most important souvenir from Luxembourg is its famous chocolates and Moselle wines. As a gift to colleagues and friends, you should also bring blackcurrant liqueur.
Having studied the schedule of holidays, you can time your tours to Luxembourg to one of them and get incomparable pleasure from participating in a fire festival, for example, or in a march of sheep.
Photos