Slovenian cuisine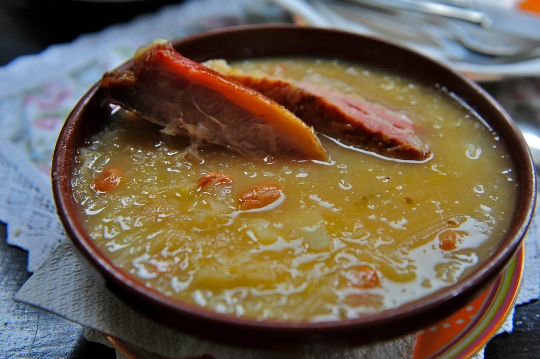 What is Slovenian cuisine like? Its formation took place under the influence of Italian, Croatian, Hungarian, Austrian and German gastronomic schools.
National cuisine of Slovenia
The highlight of the Slovenian table is the first courses: "gobovayuha" (porcini mushroom soup, served in a bread loaf, which has been previously freed from the crumb) and "sour juha" (a soup made with pork broth, vegetables and vinegar). Any meal is accompanied by the use of local cheese, and for the second meal, guests and residents of Slovenia often treat themselves to "krainske klobase" (horseradish sausages), "Slovenian pilaf" (it is prepared with the addition of seafood), "chicken paprikash"(chicken paprikash with red sauce "bechamel").
As for desserts, in Slovenia you will be offered to try the walnut roll ("potica"), pancakes, complemented by nut butter and whipped cream ("executioner"), hot apple and cheese cake ("gibanitsa").
Popular dishes of Slovenian cuisine:
"chevapchichi" (meat soup with sausages);
"tunka" (a dish of fried pork pieces with melted butter);
"zhgantsy" (boiled buckwheat balls, which are complemented with sausages);
"radshnichi" (shish kebab in Slovenian);
"chompe" (a dish of baked potatoes and cottage cheese).
Where to try Slovenian cuisine?
Breakfasts, lunches and dinners in local catering establishments are not subject to a clear schedule, so guests of the country can satisfy their hunger at any time and in any place. It should be borne in mind that usually the price of meat dishes is indicated without the cost of the side dish..
In Ljubljana, it will not be superfluous to treat yourself to Slovenian dishes in "Gostilna Sestica" (first, here you will be offered to taste Slovenian cheeses - with mold, spicy, smoked; and on the menu you will also find a mix of meat and sausages, sauerkraut, homemade potatoes with onions, wrasse, traditional home wine, and on Fridays you will be waiting for Slovenian evening with live national music), in Maribor - in "Stajerc" (in this tavern-pub, guests are treated to Slovenian beer and excellent snacks in the form of sausages, homemade ham, Slovenian goulash bograc), in Portoroz - in "Cantina di Pesce" (visitors will find a Slovenian signature dish on the menu - Gamberetti with salad and fried potatoes).
Cooking courses in Slovenia
Want to learn how to cook a 4-course Slovenian lunch? Welcome to the restaurant "Gostilna dela" (Ljubljana): culinary courses open here "Cook eat slovenia" (classes are held in English), where after the preparation of lunch, it will be followed by a tasting along with 4 types of local wine.
In Slovenia, it makes sense to come to the Wine Fair (Ljubljana, June) or the Salt Festival (Piran, May), accompanied by a fair, a solemn procession, tasting Slovenian delicacies (those who wish can take a look at the Salt Museum).
Photos