Holidays in Slovenia in July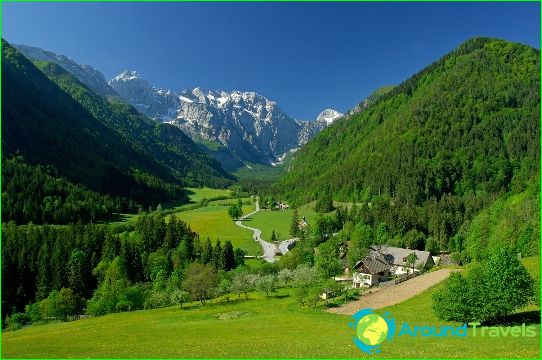 A tiny state located in Central Europe, meanwhile, has to its credit both the beautiful foothills of the Alps and access to the Adriatic Sea. It is these important factors that allow Slovenia to actively develop the tourism business, creating comfortable conditions for tourists to relax both in winter and in summer..
Holidays in Slovenia in July are the most comfortable air temperatures, beautiful beaches on the Adriatic, acquaintance with amazing historical monuments and national traditions.
July weather
In this small country, one can observe, firstly, a temperate continental climate, and secondly, a subtropical climate characteristic of the Mediterranean. The Alps shelter the country from the cold winds from the north. The Adriatic Sea influences the establishment of warm, humid weather.
July is the hottest month in Slovenia, in the afternoon it can be observed on some days until + 27 ºC (naturally on the coast). In the northern and central regions of the country, it is slightly cooler, up to + 19 ºC, in the foothills of the Alps, even lower. Depending on the route chosen, you should select the appropriate wardrobe.
Beauty reserve
Many tourists come to Slovenia to get away from the hustle and bustle of city life, to enjoy the local views and diverse landscapes. Nature deserves special attention.
The Adriatic coast, where the azure sea and sky meet with golden beaches, ski resorts with snow-covered peaks, thermal springs with healing water and the Ljubljana swamps. A tourist, traveling in Slovenia, meets oak or beech forests, climbing the mountains, he will see a motley carpet of alpine vegetation, on the Karst plateau he will meet with representatives of the steppe zone.
Slovenian Riviera
The most popular resort is Portorož, located between the small village of Lucia and the medieval monument town of Piran. A classic holiday on the Adriatic coast is complemented by living in luxury hotels and apartments, well combined with treatment, wellness treatments. A small Slovenian picnic with boat trips is a great surprise for children.
Moreover, the main healing factors are local thermal springs, in addition to them, there is a center for exotic Thai medicine and thalassotherapy. The most fashionable wellness complexes are offered in «Sauna park», there are seven different types of saunas, massage waterfalls, ice caves and herbal baths.
Holiday photos in Slovenia