Airport in Sochi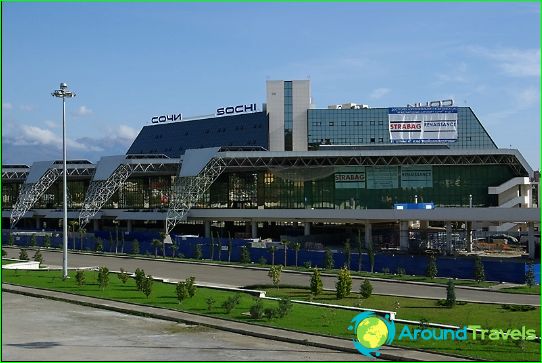 Sochi airport is located 28 kilometers south-east, not far from the city of Adler. Currently, the airport in Sochi has the status of an international and interregional scale and ranks eighth in terms of the number of passengers using the services of the terminal, along with ports such as Vnukovo and Domodedovo. Before the Olympics in 2014, it was completely renovated, received 2 new terminals, new runways and modern equipment to help ensure security at the airport..
Interestingly, the airport in Sochi was originally created in November 1945 to protect the Black Sea coast during the Great Patriotic War. And already much later, the runways for civil aviation and the station building itself were built. Only in the eighties there were regular flights abroad: planes fly to the Czech Republic, Hungary, Slovakia, and in addition to the Middle East and Western Europe. Interesting fact: in 2010, New Zealand issued a coin with the airport building in Sochi in denomination of one dollar.
Thanks to the reconstruction of the building before the Olympics, the airport in Sochi fully complies with the European level. At any time of the day, passengers can connect to a free Wi-Fi network, use the services of a mother and child room, luggage storage, and visit a medical aid station. The airport management has also developed a line of services for passengers of priority classes. There are cafes, shops and restaurants on the territory of the passenger terminals. If necessary, you can use the services of currency exchange offices and a post office.
The airport and the city of Sochi are connected by several bus routes, numbered 105 and 124. In addition, there are several bus routes connecting the airport with the city of Adler - this is bus number 51, 130, 131, as well as bus number 135, going to the village of Krasnaya Polyana , which is a world class ski resort. The fastest way to get from the airport to Sochi is by high-speed «Aeroexpress», travel time is about 50 minutes, and to the city of Adler - about 10 minutes.
The airport in Sochi offers passengers arriving by private vehicle the services of free and paid parking with the possibility of hourly or daily billing

Photos of Sochi airport