Madrid in 2 days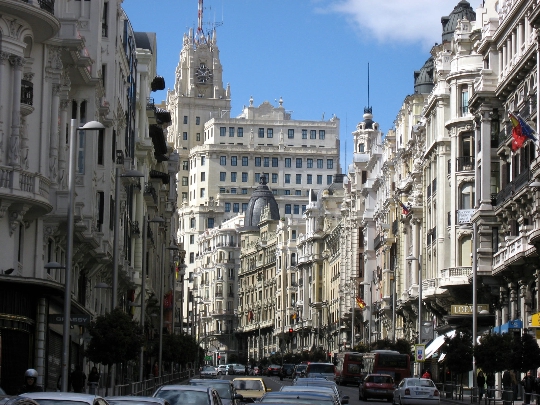 In the very center of Spain and the entire Iberian Peninsula, there is an ancient and majestic Madrid, a city that is rightfully considered one of the most beautiful not only in the Old World, but throughout the world. Having decided to go to Madrid for 2 days, it is best to draw up an approximate program of excursions in advance so as not to forget to visit the most interesting and memorable places..
Bear and strawberry
The coat of arms of Madrid depicts a bear hugging a tree. This clubfoot is a symbol of the Spanish capital, and strawberries grow on the tree. All together, it is a sculptural composition in the Puerta del Sol, where is the best place to start your acquaintance with Madrid. The square is called the Gateway of the Sun, the zero kilometer passes along it and from here all Spanish roads and distances begin..
The Spaniards are rightfully proud of the oldest building in the square. This is a former post office built in the middle of the 18th century. The clock on the post tower heralds the arrival of the New Year in Spain, and the square itself serves on New Year's Eve as a place of celebrations for Madrid residents.
In Madrid in 2 days you can see many other beautiful squares, each of which is a real attraction of the Spanish capital:
Plaza Mayor is the main square with 437 balconies of 136 buildings located on it. The monument to King Philip in its center recalls the great role of the Habsburg dynasty in the history of the Spanish state.
Sibelis, where the attention of every passer-by is attracted by the magnificent fountain in honor of the goddess Cybele.
Canovas del Castellana with no less amazing sculptural masterpieces: the fountains of Neptune and Apollo were donated to the city in the second half of the 18th century.
Armory Square of the Royal Palace, where the Cathedral of Madrid rises.
Bullfighting and the silence of the Prado
If a visit to Madrid for two days falls on a Sunday and takes place between March and mid-autumn, the traveler has a chance to see the famous Spanish bullfight in all its splendor. Bullfights take place in the arena at the end of Alcala Street, built a hundred years ago. The spectacle is as colorful as it tickles the nerves, so when buying a ticket, you should thoroughly evaluate your own impressionability.
An alternative to this leisure option may well be a tour of one of the greatest museums on the planet. Madrid in 2 days is the indispensable Prado with its unique collection of pictorial and sculptural masterpieces created by mankind over the past few centuries.
Photos