Madrid in 3 days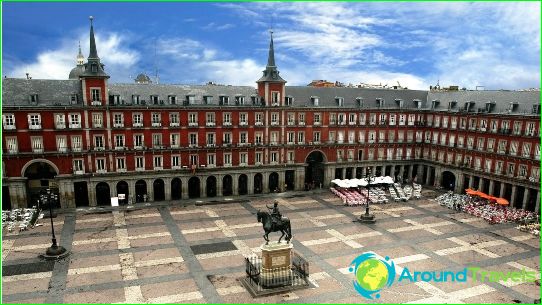 The sights and museums of the capital of Spain defy easy counting. Each house and cathedral of the old city is a cultural heritage or architectural monument, and therefore Madrid in 3 days is a very interesting project, but incredibly difficult. However, the active traveler was never afraid of difficulties of this kind..
Royal squares
The layout of the Spanish capital is conducive to long walks and leisurely contemplation of wide avenues, shady parks and cool fountains. The squares of Madrid look especially stately, each of which played an important role in the life of both common people and royalty:
Plaza Mayor is the main one in the city, where a monument to King Philip III is erected. The most fashionable cafes and restaurants are located here, and a total of 136 buildings overlook a huge area..
Puerta del Sol is a special place for Madrid residents. From here the countdown of road kilometers begins, and therefore this area is considered the geographical center of the city and the entire country. The program of the Madrid excursion in 3 days should include a monument to the Bear with a strawberry tree, even depicted on the coat of arms of the Spanish capital.
Eastern Square with an equestrian sculpture of King Philip IV, in the work on which Galileo Galilei took part. The uniqueness of the statue lies in the unusual center of gravity - the emperor's horse rests only on its hind legs.
Monastery of the Incarnation
Arriving in Madrid for 3 days, make time for a visit to the Encarnación Monastery, founded at the beginning of the 17th century. Its main shrines are the blood of Saints Januarius and Panteleimon, and the interior of the cathedral makes it one of the richest in the Old World. The interior features panels of jasper, marble and bronze, blue and white tiles and paintings by prominent Spanish masters of the brush.
Prado as a painting textbook
The Prado Museum in Madrid has a unique collection of painting and sculpture, which is unmatched by any other museum in the world. Here you can admire the works of Velazquez and Goya for hours, and El Greco's paintings, stored in Madrid, are the most mature and famous.
Among the exhibits of the Prado there are paintings that do not need a special presentation. For example, "The Rape of Europa" and "Adam and Eve" by Rubens. The opening hours of the best museum in Madrid allow you to spend the whole day there, and you can end your pleasant trip in an equally interesting place where you have a chance to taste the best varieties of Spanish meat delicacies. The Jamon Museum awaits its admirers every day, and a tour of its cozy halls should be included in the list of must-haves for the trip "Madrid for 3 days".
Photos