Taxi in Madrid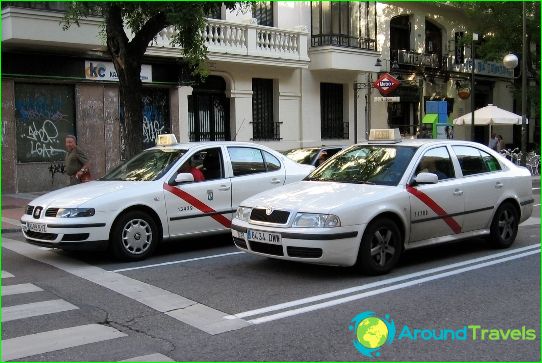 Taxis in Madrid are white cars equipped with a meter and have a diagonal red stripe on the door and the coat of arms of the city (bear and strawberry tree), and on the roof there is a light signal by which you can find out if the taxi you are interested in is free (this will be indicated by a green signal).
Taxi services in Madrid
To stop a taxi on one of Madrid's streets, you need to stretch out your hand. In addition, in search of him, you can go to specialized parking lots - be guided by the blue plates on which the letter "T" is written in white.
If you see a sign with the words "Ocupado", it means that the taxi is busy, and the sign "Libre" will indicate that the driver is ready to take you to the address you need..
There is another way to use the services of a Madrid taxi - call it by phone: 91 405 55 00, 91 447 51 80; 34 (91) 371 21 31; 34 (91) 445 90 08.
Taxi cost in Madrid
Would you like to be aware of such a question as "How much does a taxi cost in Madrid?" To navigate the prices, you should familiarize yourself with the information below:
Boarding costs passengers a maximum of 3 euros, and each kilometer traveled - 1 euro.
Waiting and driving at low speed is charged at 17 euros / hour.
When traveling by taxi, additional payments are provided: if you get into the car at Barajas airport, the surcharge will be 5.25 euros, and if you get into the car at the bus or railway station or near the Park Ferial Juan Carlos I exhibition complex , for the trip you will have to pay 3 euros (including the fare to this complex, as well as to the destination). And passengers who are going to use a taxi on the eve of Christmas and New Year's Eve will add 6.70 euros to the final bill.
The night fare, valid after 21:00 to 05:30, almost doubles the cost of the trip.
Tourists should be aware that local legislation does not provide for the implementation of fees for the transport of wheelchairs and passengers with pets.
For a trip from the airport to the city center, you will pay approximately € 30, and for a trip around the city - on average € 10.
Payments with credit cards in Madrid taxis are rare, so you always need to have cash with you to pay for the fare.
Important: if you do not like the service or if the driver tries to deceive you, it is advisable to contact the Municipal Taxi Department - when contacting this department you need to have a piece of paper with the taxi registration number, identification and driver's license number written on it (you will find this information next to the dashboard panel), as well as a receipt for payment of travel.
As the cultural and historical capital of Spain, Madrid has a developed transport system (there are buses, trams, metro, cable car), but if your goal is to quickly and safely get to your desired destination, a Madrid taxi will always come to your aid..
Photos of taxi in Madrid