Spain Trains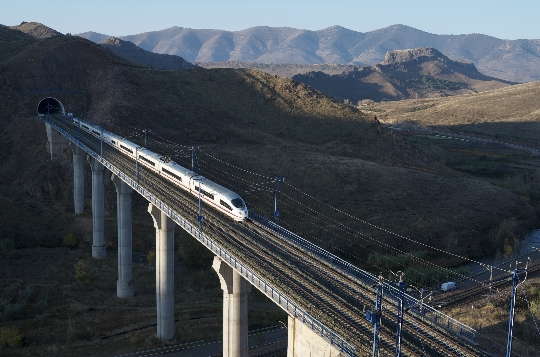 The railway network covers the whole of Spain and connects the country with France and Portugal. The national company RENFE operates the state railways. Spain's trains provide a connection between the country and the main cities of Europe. The main highways run from Madrid. Small chains operate in the regions, of which Euskotren is considered the most famous. Spanish trains traveling over 400 km are designated Grandes Lineas RENFE. Many trains are seated and run during the day. The earliest train departs at around 6 a.m. and the latest arrives at 24 p.m..
Train tickets
By purchasing a ticket, the passenger gets the opportunity to take a certain place in the carriage. This information is noted on the ticket. Train timetables in Spain are published on renfe.com. Tickets can also be purchased there, up to a maximum of 60 days before departure. Travelers are offered high-speed lines between Madrid and Valencia, Barcelona and other cities. For example, you can get from Madrid to Alicante in 2 hours and 20 minutes. There are lines where trains run more slowly. Boarding the train is accompanied not only by ticket control, but also by inspection of luggage.
Train tickets in Spain are affordable. For example, you can get from Barcelona to Valencia in 3 hours by buying a ticket for 24 euros. From Barcelona to Seville, the train takes 12 hours, and the ticket costs from 60 euros.
Features of Spanish trains
For business class people, Preferente trains are intended, equipped with comfortable seats. Passengers are offered food there. The traditional Turista seating carriage is cramped and simple. Spain's Turista + trains offer comfortable seating and food during the trip. The system of Spanish railways is considered unique, since in addition to the wide local gauge there is also a traditional European one, which is used for high-speed trains. Talgo trains with variable wheel spacing move around the country. They easily change from standard to wide gauge.
The railway system operates on the basis of a complex tariff system. To travel profitably, you must use discounted fares. There are blue days in Spain when train travel is at great discounts. These days do not coincide with holidays. For young people from 12 to 25 years old, youth cards are intended, which give the opportunity to receive a 50% discount on any trips on blue days. For tourists there is a special Tourist card or a travel ticket. It can be purchased by a foreigner for travel on any route. The price of this card depends on its validity period.
Photos