Taxi in New York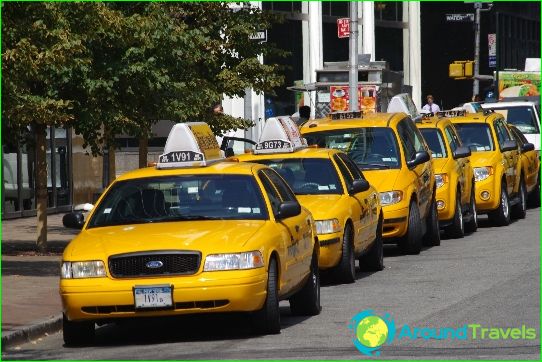 Taxis in New York are represented by cars painted yellow: they have a counter for invoicing passengers, a partition in the cabin, as well as stickers attached to the windshield (they confirm the presence of licenses obtained).
Features of ordering a taxi in New York
You can catch a taxi on the street, but in order to attract the driver's attention, tourists are advised to wave their hands intensively.
You can use a taxi if a lantern is on on its roof. If not, and also if the "Ofduty" signal is displayed, then the driver will not take passengers.
It should be noted that yellow taxis cannot be called by phone. Also, keep in mind that licensed taxis are not allowed to take more than 4 passengers..
Since New York taxi drivers do not like to travel between districts (there are 5 of them in the city) and are often well oriented only in one of some districts, then if, for example, you need to get from Manhattan to Brooklyn, it is advisable to plan your time with a margin.
Chartered taxis (black limousines)
These cars can be ordered exclusively by phone (they are prohibited from picking up "voting" passengers on the street or at the airport) - payment is made not by the meter, but at fixed prices (you need to find out the cost before boarding).
You can order a taxi by phone: 212-777-7777, 212-666-6666, + 1-800-609-8731.
Important: unlicensed cars ("bombiles") often ply at airports in search of passengers, but tourists are not recommended to use them. If necessary, the airport staff can help you find a taxi or their special parking lot..
Since yellow taxis are quite difficult to catch in the outer areas, it is the registered taxis that will come to the rescue..
If you forget something in the taxi, you should call 311.
Taxi cost in New York
Do not rack your brains over how much a taxi costs in New York - the following fare system will help you navigate the prices:
boarding costs from $ 2.5;
the cost of every 350 m of the route costs $ 0.5;
peak hour surcharge is $ 1, night surcharge and waiting minute - $ 0.5;
for all tolls, taxi drivers charge passengers (some bridges and tunnels have a paid crossing, for example, the Queens-Midtown Tunnel).
In all New York taxis, you can pay with credit cards, but there are often times when the terminals are "broken", so before boarding, it makes sense to check with the driver if you can pay for your trip with a card (just in case, you should have cash with you).
Since it is customary for drivers to leave "tea" in both yellow and registered taxis, 10% can be added to the fare..
No matter how much distance you need to cover, it is worth using the services of a New York taxi - it is convenient and reliable..
Photos of taxi in New York