Airports in Colombia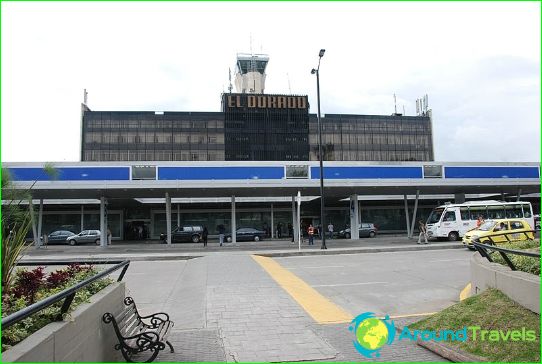 Colombia has 20 airports, among which the capital airport (El Dorado airport) and Palmyra airport stand out.
El Dorado airport
The main airport in Colombia is located in the capital of the country, in the city of Bogota. This airport ranks first and third in Latin America in terms of the number of cargo flights served and the number of passenger traffic per year, respectively. More than 25 million passengers and more than 600 thousand tons of cargo are handled here annually. The airport is located about 15 kilometers from Bogota.
Terminals and services
The airport in Colombia El Dorado has 2 terminals - international and domestic. The distance between them is about a kilometer..
Both terminals provide all the necessary services you might need on the road. There are cafes and restaurants, ATMs, post office, luggage storage, currency exchange, etc..
If necessary, you can contact the first-aid post.
Airport guests can visit numerous shops and buy the desired product. Also on the territory of the airport there is Internet access.
How to get there
There are several ways to get from the airport to Bogota. The cheapest option is a bus. The bus stop is located right at the exit from the terminal, the fare will be less than a dollar.
Taxis can be offered as an additional option. Taxi counters are located on the territory of the terminal, where a coupon for travel is taken, in which the address and the amount of travel are indicated. At the exit from the terminal, you must show this coupon to the taxi driver. The fare to the city will be about $ 15.
Palmyra airport
Another airport in Colombia, an alternative to the capital's airport, serves the country's third largest city of Cali. About 3.5 million passengers pass through the airport every year.
The airport has one runway, its length is 3000 meters. It can accommodate all types of aircraft up to a Boeing 747.
Services
The airport in Colombia Palmyra offers its passengers all the services they need on the road - food outlets, ATMs, currency exchange, post office, etc..
Transport
The city can be reached by buses. A more expensive but comfortable option is a taxi..
Colombia airport photos