Tours to Kizhi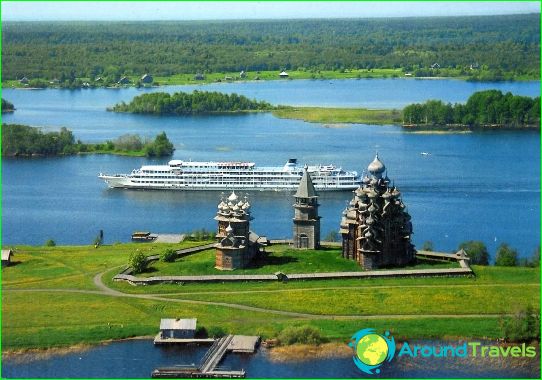 World fame covered the Kizhi Pogost in 1990, when it was included by UNESCO in the famous lists of cultural heritage. On the territory of the State Historical and Architectural Museum "Kizhi" there is an old ensemble created in the 18th-19th centuries by Russian architects and representing a unique example of wooden architecture. For fans of Russian culture and history, tours to Kizhi are a great opportunity to get acquainted with amazing buildings, which are known even in the farthest corners of the planet.
History with geography
Kizhi Island, on which the eponymous museum-reserve is located, is located on Lake Onega. In summer, the easiest way to get to the architectural ensemble on the island is by cruise ships sailing from the quays of the Petrozavodsk river station. Travel time will not exceed 1 hour 15 minutes. In winter, tours to Kizhi are possible on the ice of Lake Onega. Roads are laid from the villages of Yamka and Sibovo. Helicopter travel is no less popular..
The history of Kizhi Island is inextricably linked with the construction of smelters on its territory. Copper ore was discovered here in the 17th century, and at the same time enterprises for its processing appeared on the island..
Special beauty
Wooden architectural monuments on the island are among the most amazing pieces of Russian architecture. UNESCO specialists highly appreciate their importance and believe that they are "exceptional examples" of traditional architecture in only Karelia, but also in the whole of the Finnish-Scandinavian region..
The most famous church that meets the participants of the tours in Kizhi is the Church of the Transfiguration of the Lord. Its construction began in 1714, and the peculiarity of the construction is that the frame was built without a single nail. 22 chapters adorn the magnificent beauty of the temple and sparkle in the sun like silver.
Briefly about the important
There are no hotels or other accommodation options on the island. You can spend the night in guest houses nearby.
If the tour to Kizhi is planned to be carried out on your own private water transport, you will have to request a parking permit from the security service of the museum-reserve.
No campgrounds, picnics or campfires are allowed on the island.
Photos