The beaches of Evpatoria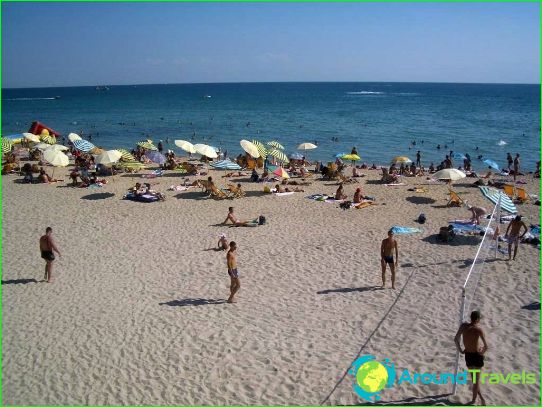 The beaches of Evpatoria are considered the most popular on the territory of the Crimean peninsula. They are annually visited by tourists from Ukraine, Russia, other CIS countries and some European countries. Unlike Yalta beaches, the beaches of Evpatoria are rarely crowded and they are much cleaner, and the locals are well aware of the location of several wild beaches, where tourists rarely visit..
On average, the swimming season in Evpatoria lasts about five months. It starts in the second half of May and ends somewhere in the middle of October. There are rarely storms here, but even if they do start, they last for several days. Storms occur mainly in the cold season, so vacationers who dream of spending a couple of weeks in July on the beaches of Evpatoria have nothing to worry about.
Hot sand and entertainment
Absolutely all the beaches of Evpatoria are sandy, which cannot be said about the same Yalta beaches with their large pebbles and huge boulders sticking out of the water. The seabed is gently sloping, and the descent into the water is usually smooth, gradual, which is perfect for children. There are ebb and flow here, but they are practically invisible, and even more so they are not life-threatening..
Like many Crimean beaches, Yevpatoria offers water skis, bicycles and catamarans for rent, as well as attractions for children and adults. Local beaches are both paid and free. The entrance to the paid beach can cost vacationers from 5 to 50 UAH per day - the price directly depends on the location of the beach and the quality of service.
The best sandy beaches of Evpatoria can be divided into several categories:
beaches for young people;
beaches for families;
beaches for crowd lovers;
beaches for exotic lovers.
Beaches for young people
Among the beaches for young people, the most popular are «Knight's beach» and «Africa». Here you can find volleyball courts, lots of comfortable changing rooms, lockers, showers and much more. In the evenings, a free disco is regularly held here for everyone. Both of these beaches are located at the entrance to the city, so getting there is not difficult..
Wild beaches of Evpatoria
Wild beaches of Evpatoria stretch from the local water park for many kilometers. These beaches are suitable for those traveling by car or bicycle. It is very quiet and calm here, because the beaches are not well equipped for vacationers and are in demand only among exotic lovers. The water is very clean, the sand is white and hot, and there are a lot of places to rest. Of course, sometimes here you can stumble upon large boulders overgrown with shells or wild animals (even snakes), but remoteness from the general mass of people and the intact landscape are an undeniable advantage over well-groomed, but people-filled resorts.
Photos of the beaches of Evpatoria