Cost of living in Crimea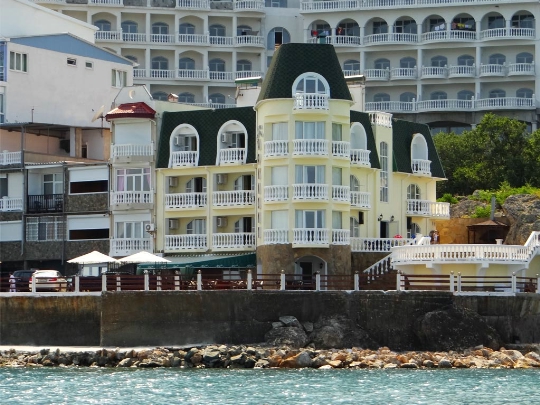 In Soviet times, Crimea was called an all-Union health resort for a large number of sanatoriums, boarding houses and other institutions involved in health improvement and treatment. And now this sunny peninsula is an attractive place for summer pastime, especially since the cost of living in Crimea is low compared to many European countries..
Going on vacation to Crimea, it should be borne in mind that the cost of living will depend on many reasons, the most important of which are the time chosen for the rest, the place, the level of comfort..
The most expensive for tourists will be hotels and boarding houses of Yalta, especially those located in the city center. Single room category «luxury» will cost in June-July about 1800 Russian rubles per day per person, class «standard» - 1400. By September, there is a decline in prices. In Alushta, a similar room, which does not have beautiful views, will cost 1,500 rubles, with an improved layout - 2,500 rubles, two-room - 2,700 rubles.
In Bakhchisarai, private boarding houses will request from tourists from 300 to 2500 rubles, depending on the number of tourists and days of stay. The most affordable prices are offered in the village of Solnechnogorsk - from 250 rubles per day, but you should be prepared for some household inconveniences.
Southern pearl
Today, Crimea is changing before our very eyes, infrastructure on the coast is developing, the number of hotels and inns, and those designed for different income levels, are increasing, new excursion routes appear..
Of the advantages of a vacation in Crimea for Russians - no visa is required, one language space, one currency. Among the negative points - difficulties may arise with transport links.
On the beaches
The length of the coastal areas suitable for obtaining a beautiful tanning in the Crimea is more than 500 kilometers. That is why the locals are glad to see guests, because they know that the beaches, the sea and the sun's heat will be enough for everyone..
The second pleasant moment is the beaches in Crimea for all tastes: sandy; pebble; sand and pebble; gravel and pebble. Lovers of gentle sand need to buy tickets to Feodosia, there is also a gentle slope of the seabed. The same sea in Koktebel, but on the shore - pebbles. In Yalta and Gurzuf, on the contrary, the entrance to the sea is very steep, and the beach is gravel and pebble. Foros will surprise diving enthusiasts with beautiful landscapes of the kingdom of Neptune, various rocks and grottoes. Of these, part of the mountain landscapes are visible to vacationers, and the other is reliably hidden in the depths of the sea..
Crimean life
A solid hotel base is at the service of vacationers. Many hotels and mini-hotels only offer accommodation and meals. There are various wellness complexes that allow you to improve your health or strengthen your immunity at the same time as rest..
There are also no problems with nutrition. Part of tourists who prefer the system «all inclusive», finds suitable hotels and no longer thinks about looking for food. Others book hotels with breakfast included, and prefer to dine in restaurants or cafes..
The total cost of recreation in Crimea is made up of many components, including the price of housing, which varies greatly. Each tourist who is going to spend part of his vacation on the peninsula, chooses a hotel based on his own financial capabilities, and, as a rule, finds a suitable option..
Photos