Cuba beaches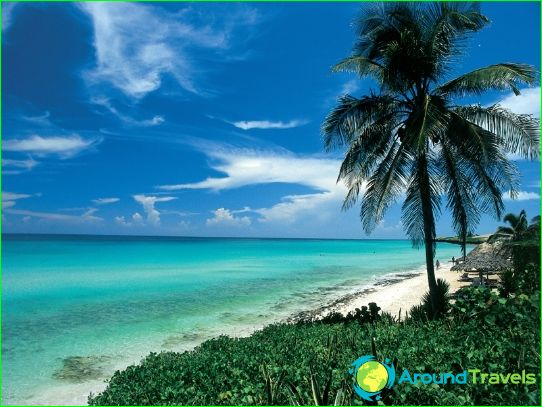 Cuba is informally called the Island of Liberty. This is an amazing place where blue lagoons, filled with salty Caribbean waters, coral reefs, clean fine sand of the coast, light breezes and bright sun, which gives warmth for 330 days a year, combine.
Adventure tour
Holidays in Cuba are perfect for those who love adventure and exoticism. All kinds of entertainment await here: excursions to mysterious caves, trips to theaters and galleries. At night parties, you can enjoy the rhythms of incendiary rumba, taste the best Cuban rum and famous cigars. Cuba is a land of endless holidays, carnivals and festivals.
In the higher parts of the country, mountain ranges and cliffs create the coastline, while lush thickets of mangroves can be seen on the lower shores. The best sandy beaches in Cuba stretch along the sea for 588 km. The color of the sand can be different: in Varadero it is crystal white, in Guardalavaca it is brilliant gold. Outlying areas like Playa Duaba have a lot of dark sand.
The sea remains warm all year round thanks to the subtropical climate. Most of the guests arrive from November to April, during which there is practically no rain. Many people prefer to spend their Christmas and New Year holidays relaxing in the shade of spreading palm trees. From May to October, tropical showers begin on the island, the weather is very hot and stuffy. At this time, the voucher can be bought for last minute tours for half the cost.
A resort for every wallet
Holguín, Varadero, Havana resorts will give an atmosphere of tranquility and privacy, will delight you with a high level of service and developed infrastructure.
On the coast of Holguin there are:
1) Playa Blanca;
2) Playa Caletones;
3) Playa Pesquero;
4) Guardavalaka;
5) Playa Esmeralda.
Here you can admire emerald lagoons, lush vegetation of natural parks, enjoy the warm sun and golden sand, see the monument to the discoverer of Cuba - H. Columbus.
Playa Mayor, Carabelas, Playa Larga, Playa Giron, Varadero are located in Varadero. For recreation, you can choose any zone, in the center or in the distance, a wide selection of hotels and resorts will allow you to find a suitable option for any income. The sparkling, clear waters of Bahia de Cochinos Bay will attract scuba divers and divers.
Cuba's beaches Santa Maria, Playa del Este, Djibacoa are located in the capital of the country - Havana. Blue-green water, white sand, colorful reef formations are characteristic features of this resort. Havana's nightlife is exciting and varied: in all kinds of clubs, salons and cabarets, the music never stops.
The sunny country harmoniously combines the beauty of nature, comfortable conditions and vibrant entertainment. If you have ever felt the atmosphere of holiday and adventure that reigns on the island, it will surely entice you again to meet new impressions..
Photos of Cuba's beaches