Railways of Cuba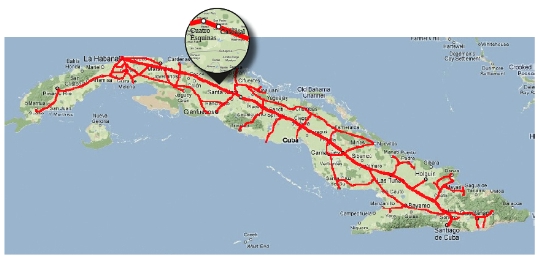 Cuba is a kind of country that has experienced the consequences of the economic blockade. The consequence of the crisis is a difficult situation with transport services. Cuba's railways are in need of modernization. They are very far from progress: old trains are in operation, and the railway track needs repair.
The situation on the railroad
Cuba was the first Latin American country to have rail tracks built. Despite this, its railways are in decline. The railway sector is controlled by the state. Transport functions are poorly debugged. Cuban trains are late and their traffic patterns are constantly changing. In some cases, there are long delays - 15-20 hours or more. The rail system is stagnant and lags far behind European and US standards. Cuban trains have a bad reputation with the exception of a special train that runs from Havana to Santiago de Cuba. Railways link Cuban cities and villages. For long distance travel, it is better to use the train, which is more convenient and economical than the bus. You can buy train tickets at the station a few hours before the flight. The service of advance booking of tickets is available.
Railway tickets and main routes
The cost of tickets in the country is fixed. Locals pay for tickets with their own currency, while foreigners use the convertible peso, which is approximately equal to the US dollar. In fact, tourists spend much more on tickets than Cubans. A local can get to Camaguey from Havana for 20 pesos, and a foreigner for 20 dollars. Train tickets are available at any time. With a limited budget, the train will be a good option for getting around the country..
Cuba's railways stretch for 9,300 km. Of these, only 240 km are electrified. In recent years, tourism in the country has been developing very actively. Despite this, passengers are forced to travel on old trains. Rail links are not popular. Passenger trains are often canceled. Passengers are offered Spartan conditions: worn-out carriages, equipped with seats, unsanitary conditions. Some carriages lack numbers. In addition, there is no class division in Cuban trains. Rail transport is characterized by discomfort and delays. The most comfortable train in the country is the Havana - Santiago de Cuba train. On this train, passengers are offered refreshments and snacks. To see beautiful landscapes, you can use the Casablanca - Matanzas route.
Photos