Holidays in Cuba in September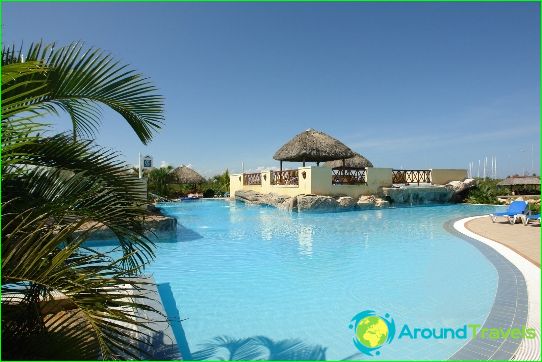 In September, real heat reigns in Cuba, which becomes weaker by the end of the month. So, what weather conditions should you expect?
Weather in Cuba in September
The humidity level is about 78%. It rains frequently in Cuba, but the amount of precipitation is increasing. Among the advantages, it can be noted that tropical showers vary in duration from 20 minutes to an hour, so that people's plans do not change too much. Most of the time it rains in the evening..
The temperature during the day can be + 30 ... + 32C, but high humidity leads to the fact that it seems that the temperature reaches + 35 ... + 38C. The maximum indicators are inherent in the southwestern regions of Cuba, which include Santiago de Cuba, Holguín. The most comfortable conditions are established on the northern coast. The air in the evening cools down to + 22 ... + 24C.
In September, there are often typhoons, storms that occur locally. The maximum risk of natural disasters can be noted in the province of Pinar del Rio.
If you wish, you can organize the perfect vacation in Cuba, which will give many pleasant emotions..
Holidays and festivals in Cuba in September
On the eighth, in El Cobre, celebrations are held in honor of the Black Madonna, who is the patron saint of Cuba. Religious processions provide insight into the culture and rich traditions of Cuba.
Havana traditionally hosts the International Theater Festival at the end of September, which allows you to learn the latest trends in theatrical art. It is here that you can learn new trends and unusual ideas, get acquainted with the best performances staged based on the plays of Cuban playwrights.
Various dance events are held in Cuba in September. You can enjoy a rich cultural entertainment, thanks to which your vacation in Cuba in September will be remembered from the best side. In order to have an interesting time, you need to carefully read the poster.
Prices for travel to Cuba in September
Tourist trips to Cuba always involve significant costs, which are mainly associated with a long transatlantic flight. The opportunity to save appears in September, this month is usually referred to as the low season. Take care of organizing your trip in advance in order to achieve significant savings and fully enjoy your vacation.
Holiday photos in Cuba