Water parks in Tbilisi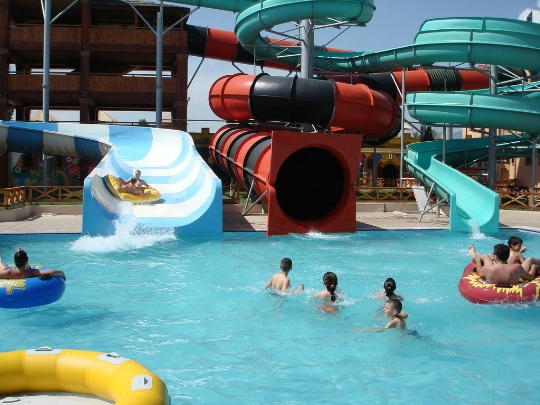 If you decide to spend your summer vacation in Tbilisi, be sure to visit the Tbilisi Sea and the largest water park in the region.
Aquapark in Tbilisi
Tbilisi pleases its guests with a water park "Gino Paradise Tbilisi". Here they will find:
Various pools (wave, Olympic, salt and fresh water, relaxation - 12 in total).
High-speed 31-meter topogan with 6 slopes.
Gino's ship with Jacuzzi (cocktail can be enjoyed at the deck bar).
Children's water park (there are slopes, a waterfall, slides, underwater chairs).
Wellness & SPA center with VIP and Excellent zones: here guests will be delighted with the presence of a massage room, a fitness center with the latest exercise equipment, herbal, Finnish, Roman, infrared and saunas "Foxy burrow", tepidarium with warm stone couches (ideal place to relax after a sauna), Cleopatra's bath with an elixir of wine, milk or champagne, jacuzzi "Mug of beer" (you will have the opportunity to spend time in the pool filled with warm beer extract).
Cafes and restaurants ("Babu Restaurant", "Terrace", "Puerto Rico", "Excellent Bar").
Cost of visit: a 3-hour stay for adults will cost 39 GEL (full day - 49 GEL), and young visitors under 12 years old - 27 GEL (all day - 35 GEL).
Water activities in Tbilisi
Those interested in water activities should go to the Tbilisi Sea - here they will be able to ride catamarans or water scooters, as well as spend time on sports grounds.
Turtle Lake can be an equally interesting place for recreation (you can climb to it by road or cable car). Since there is a comfortable pebble beach around it, here you can sit on sun loungers under umbrellas, look into any outdoor cafe or bar. It will also be interesting for children here - children's attractions have been installed for them by the lake..
And if you want, you can go to swimming complexes "Dolphin" or "Lagoon Vere", as well as swimming pools "Nemo" or "Olympic".
Are you attracted by the opportunity to go rafting? You will be able to fulfill your plans in the adventure club "Jomardi".
What about diving in Tbilisi? You will be offered to descend to a depth of 6 meters at the diving center "Poseidon's World".
In summer, you should definitely visit the Rike Park - here you can relax near the river (the Peace Bridge over the Kura River leads to the park), admire "singing" and fountains illuminated in all the colors of the rainbow in the evening, do "research" climbing walls. As for the little guests, a playground with a labyrinth was created for them..
Photos