Christmas in Georgia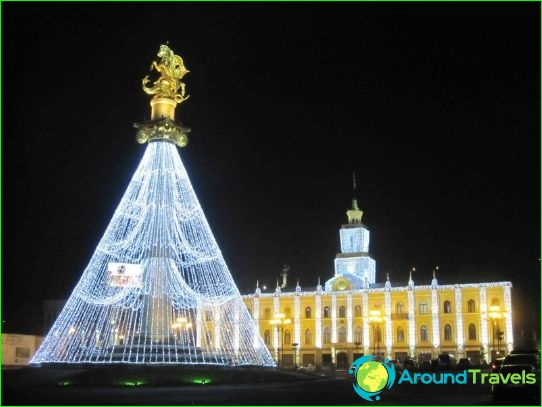 The traditions of Georgian hospitality are known to everyone. In this country, you can relax in any season and admire both natural beauty and man-made monuments of historical cultural heritage. Having gone to Georgia for Christmas, travelers are guaranteed to get into the atmosphere of the holiday, which for the residents of the country is one of the most significant and important.
Alilo - the soul is light!
Christmas in Georgia is celebrated in accordance with national traditions that are sacredly revered and inherited. One of them is alilo, or caroling. For a long time, men have practiced the ceremony of going around neighboring houses with chants and congratulations. The hostesses greeted them with delicious treats and presented them with sweets. Today, neighbors' carols are mainly practiced by children, while adults participate in the procession on the main streets of Georgian cities..
Another important tradition is the first guest of the mekvle, who pronounces the words of blessing and begins the festive meal. She is always generous in a Caucasian way, and satsivi and suluguni, a pig with adjika and sweet pies, honey and fruits are certainly present on the festive table for Christmas in Georgia..
Sports nation
Despite their love for plentiful feasts and gatherings, Georgians are always very active and fit. One of the ways to keep yourself in great physical shape is downhill skiing, which guests can also ride..
Georgian highways have existed since Soviet times. Today the recreation centers of those years have been reconstructed and technically equipped according to the latest ski fashion. And therefore, so far, the few resorts of this Caucasian country are no less popular than the famous European.
For example, the Bakuriani resort quite seriously participated in the struggle for the right to host the 2014 Olympic Games. Here, before the revolution, the royal family preferred to rest, and in the 80s of the last century, they preferred to call the resort nothing else but «Soviet Davos». Today you can meet both Germans and Austrians here - Georgian prices with European quality attract fans of snowboarding and alpine skiing from all over Europe to Bakuriani.
Christmas in Georgia will acquaint guests with the magnificent ancient architecture of Tbilisi and other cities, and will bring joy from visiting museums and art galleries. Admirers of good wine will be able to enjoy the gifts of the generous land, and lovers of table conversation in Georgia will find interlocutors with whom they can take their souls away in a pleasant, leisurely conversation..
Pictures of Christmas in Georgia