Railways of Georgia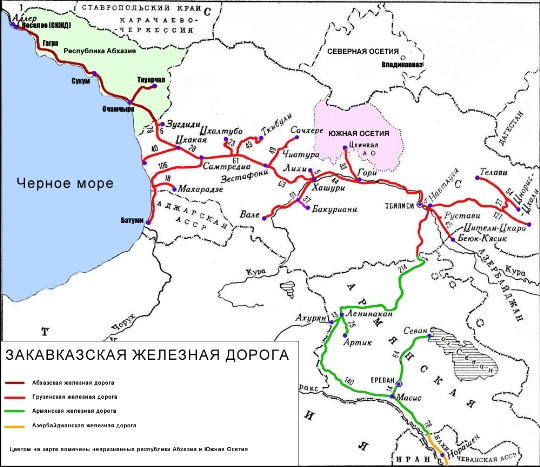 Georgian railways are operated by a state-owned company «Georgian railway» (Sakartvelos Rkinigsza). The main routes are 1612 km long. There are 32 tunnels, 1422 bridges, 114 loading stations and 22 passenger stations in the country..
Features of the railway system of Georgia
Georgian railways are almost completely electrified, except for the Ninotsminda - Akhalkalaki section. The railway system for Georgia is the most important strategic object. It acts as a key stage for cargo going from Central Asia and Azerbaijan to Europe. A large share of transportation is accounted for by the transit transportation of goods, among which oil products and oil prevail. In this regard, the Georgian railways are very profitable. Delivery of inexpensive oil products to the ports of Georgia is an attractive market niche.
The country's railway system is based on the rolling stock of the USSR times. But within this area, significant reforms have been carried out. The railway network was computerized, ranging from small stations to a department. The movement of trains today is under the control of computers. The movements of the wagons are recorded, and passengers are offered electronic tickets. Despite the changes, railway transport needs further innovations. It is poorly developed due to the peculiarities of the mountainous relief. It is difficult to form an extensive and dense network in the country. In fact, there is only one main direction in Georgia: from Rustaveli through Tbilisi, Kutaisi and Gori to Batumi.
Conditions of travel
In the country, electric trains and trains are used to transport people. This type of transport is not very comfortable, but it is cheap. Trains in Georgia are similar to Russian ones in terms of travel conditions for passengers. They are subdivided into compartment, general and CB. Ticket prices are quite affordable for the population. For example, you can travel in a compartment carriage from Batumi to Tbilisi for $ 15. A reserved seat in this direction will cost $ 10.
Tourists who come to the country experience difficulties due to the lack of timetables and directions in English and Russian at the stations. All signs at the stations are published only in Georgian.
You can buy train tickets online, on the website of the Georgian railways - www.railway.ge, as well as at the station. It is very convenient to buy tickets on the site, as the Russian version works. There you can make a refund to the card or cancel the reservation if necessary. After purchasing a ticket online, it is advisable to print it at home and take it with you to the station.
Photos of trains and railway maps of Georgia