Iceland Tourism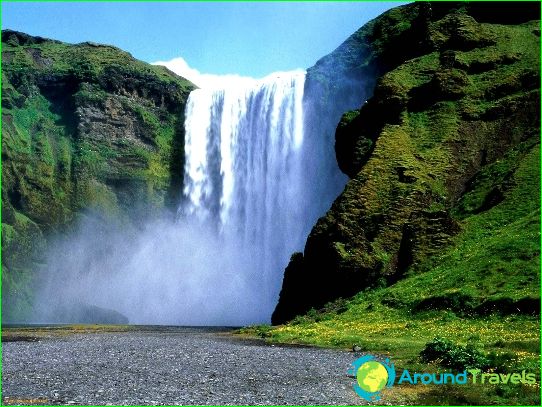 The most amazing country in the world, its landscapes can be a gorgeous backdrop for any fantasy movie. Only here you can stay alone with yourself and the Almighty, hear real silence, get a full range of relaxation and relaxation in the Blue Lagoon.
Tourism in Iceland is quite expensive, only because the country still needs to be reached. But a guest who has set foot on Icelandic land for the first time will definitely not want to leave here. It is impossible to leave the Valley of Geysers, surprising every minute with hot streams soaring upwards, or to break away from the delicious herring, which has rightfully earned the title of Icelandic gold..
Hotels in Iceland
For tourists, there are expensive hotels with excellent design and quiet, cozy guesthouses. There is no usual classification here, the National Tourism Office has developed a complex system of dividing into five categories; to determine the hotel management, it is necessary to take into account about a hundred parameters. There are representatives of famous world hotel chains in Iceland.
Seafood
Most tourists come to this country to admire the unrealistic landscapes and taste the local cuisine. Its main advantage is the richness of seafood used to prepare all kinds of dishes. The well-known and rare species of fish are used, including halibut, cod, herring, shark, shrimp, scallops and other small inhabitants of the deep sea..
Alone with nature
Among the main attractions of Iceland are geysers, glaciers and the Hekla volcano. Many of the tourists go to the Westman Islands or Godafoss waterfall.
The Western Fjords are another object of close attention of tourists, since there are very few local residents here, so on some days their number is compared with the number of visiting guests..
Some regions resemble lunar landscapes, dotted with craters with solidified lava, next to them are quite earthy, idyllic landscapes, such as pacifying green meadows with peacefully grazing sheep and horses.
Another area of ​​tourism in Iceland is treatment, health improvement. Local landscapes, silence, calmness and coziness help to get rid of stress, nervousness, restore peace of mind.
There are also active tourists who are engaged in hang-gliding flights or storming local mountain peaks. And the most daring travelers go on an excursion to a city completely covered in ash, a gift from an awakened volcano..
Photos