Taxi in Tokyo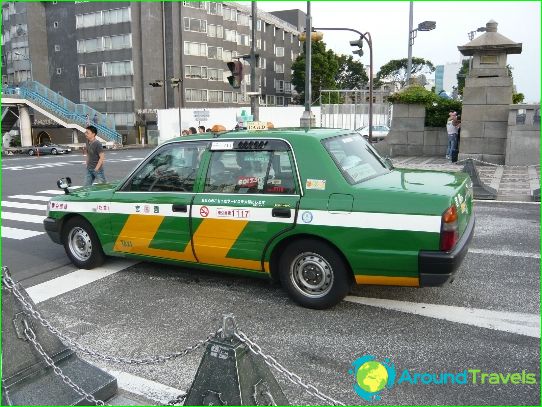 Taxis in Tokyo are represented by cars painted in company-specific colors and having a text instead of "Taxi" plastic signs with the logo of this company (the hands of Tokyo taxi drivers are dressed in snow-white gloves).
Taxi services in Tokyo
It is worth noting that many taxi services are registered in Tokyo, which have to operate in a highly competitive environment: in order to fight for customers, they equip their cars with various "bells and whistles" - TVs, massage machines, turntables, electric shavers, mini-refrigerators ...
If you need a car, you can find it at specialized sites, for example, in the Ginza area or stop a taxi on the street with your arm outstretched - you need to sit in the back seat of the car on the left side. But before you sit down, do not try to open the door on your own - the driver will open it when boarding and disembarking. If the taxi is busy, green lights will be on under the glass, and if it is free, red lights.
Since most drivers do not speak foreign languages, it is a good idea to have the name and address of the place you need to get to, written in Japanese, when boarding a taxi. If you need to get to some not very well-known place, it makes sense to follow the example of the Japanese and prepare a schematic map on which the place you need will be tied to a popular object (shopping or entertainment center, metro station).
If you wish, the administrators of hotels or restaurants can help you call a taxi - you just have to ask them about it.
Taxi cost in Tokyo
Not sure how much a taxi costs in Tokyo? The information below will help you navigate the prices:
upon landing, 650 yen is automatically displayed on the meter (this price includes the first 2 km of the journey);
each next 300 meters will cost 80 yen;
two minutes of waiting increases the cost of the trip by 90 yen, and the night fare by 30%.
On average, a ride from Narita Airport to Tokyo costs passengers 20,000 yen.
Even if you see that the car is equipped with a credit card payment device, you should not expect to pay using this method, since such devices are designed to accept cards issued by Japanese banks. In order not to offend a Japanese driver, do not give him a tip, and in order not to be fined, do not smoke in a taxi.
If you forget something in a taxi, call the phone number that is indicated on the car and tell the dispatcher the number of the taxi in which you were traveling (the found loss will be returned to you).
Despite the rather high rates in a Tokyo taxi, this mode of transport will help you out when you need to quickly get to your destination of interest or when you do not have the opportunity to use public transport.
Photos of taxi in Tokyo