Water parks in Tokyo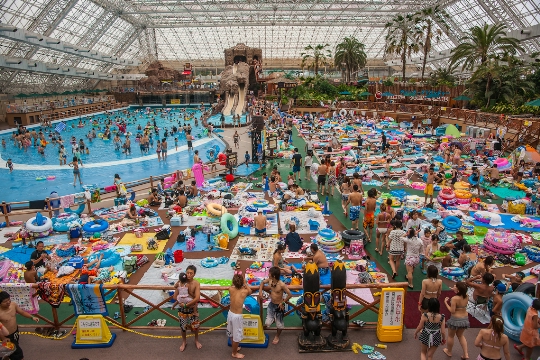 Do you plan to visit Tokyo? Don't miss out on local water parks - they are sure to give an unforgettable experience for representatives of all ages.
Water parks in Tokyo
Aquapark "Tokyo disney sea" has 7 thematic zones ("Coast of america", "Mediterranean bay", "Mermaid lagoon", "The sea of ​​the future" and others), in each of which visitors will find sea adventures and attractions (jet skiing, extreme descents from water slides). Besides, in "Disney sea" there are fountains and concerts, various performances and shows are regularly held. Entrance fee for 1 day (the price includes admission to the amusement park) - 6400 yen / adults, 5500 yen / 12-17 year olds, 4200 yen / 4-11 year olds. Entrance fee for 2 days - 11000 yen / adults, 7600-9800 yen / children.
"Tokyo summerland" equipped with "one" (Adventure Lagoon indoor water park and outdoor pool) and "terrestrial" areas with attractions, as well as "sports" zone (tennis, golf, bowling center). In the indoor water park, guests will have slides, a jacuzzi, hot springs, several swimming pools, including one with an artificial wave, a children's section. Entrance fee (1 day) - 3000 yen / adults, 2000 yen / 7-12 year olds, 1500 yen / 2-6 year olds.
"Toshimaen" in addition to a park with 30 attractions, it pleases guests with its open water park (operates in summer) with 6 swimming pools, in particular, a wave, and 31 water slides (the length of the largest slide is 195 m, and the height is 22 m). The cost of visiting the amusement park + water park (full day) is 3900 yen / adults and 2900 yen / children (height - up to 1.1 m). Important: people with tattoos are not allowed into the water park.
Those who wish can visit one more amusement park Yomiuri Land - in the summer months a water park with slides and pools opens here (the cost of visiting for 1 day with the water park is 2,800 yen / adults and 1,800 yen / children, up to 1.1 m tall).
Water activities in Tokyo
To use the pool daily, tourists are advised to stay at a hotel with a pool, such as "Grand pacific le daiba", "Asakusa View Hotel" or "Daiichi Hotel Tokyo".
The Tokyo Aquariums - Sumida (in addition to viewing jellyfish, corals and outlandish fish, you can visit the area with seals and penguins; prices - 2000 yen / adults, 1500 yen / schoolchildren, 600 yen / 3-6 year olds) and Shinagawa (watching marine life + touching some of them + dolphin show).
It is worth noting that residents and guests of Tokyo are given an excellent chance to spend time on the beach in the Edogawa area - however, they will only be able to splash in the waters of Tokyo Bay on weekends and holidays mesh).
Photos