Malta beaches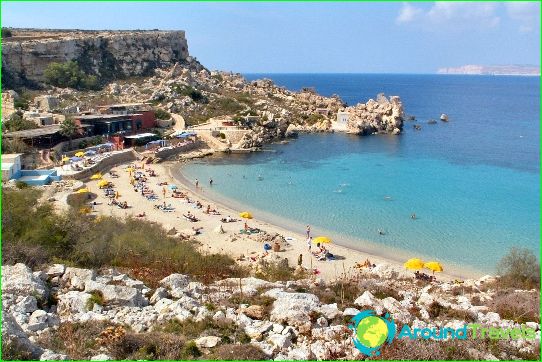 One of the most popular destinations in tourism today is a vacation in a small European country - Malta and its three islands. For many tourists, the choice of a vacation on the Mediterranean coast of Malta is determined by relatively low prices, the possibility of a quick flight (about 4 hours from Moscow), as well as the fact that you can go to this country through a Schengen visa, since Malta is one of the Schengen states. And finally, the main thing is the amazing crystal sparkling sea and the wonderful Mediterranean climate, as well as the luxurious beaches of Malta.
It is worth clarifying that the Maltese coast is not represented by wide and long beaches, but by small groups in secluded lagoons with coves and bays surrounded by sheer cliffs. At the same time, some of them are quite civilized, where you can find a cafe or a sun lounger, or rent diving equipment, and there are absolutely wild and deserted places where you can retire from the hustle and bustle. There are no ebb and flow near the Maltese islands, and, accordingly, and jellyfish, so swimming in the sea is absolutely safe.
The most popular and best sandy beaches in Malta are:
Golden Bay,
Ain Tuffiha,
Jneina,
Paradise,
Mellieha or Adira.
On each of them there is a rental of sun loungers and umbrellas, water skis, canoes, sea bicycles, diving equipment, all kinds of cafes and restaurants, the possibility of parachuting or paragliding and much more..
The Maltese Islands include two more large islands - Gozo and Comino, while Gozo is practically a separate state from Malta with its own traditions and its own infrastructure. This is a delightful harbor with many restaurants on the shore, and the most popular beach here is Ramla l-Hamra, with its unusual dark red sand..
Be sure to visit another delightful Maltese place - the famous Blue Lagoon, whose sea is a unique turquoise color. Or find yourself in the Dweira Bay, where local boatmen will bring you on small pleasure boats.
Malta is a place where it is equally pleasant to spend a family vacation and soak up the rays of the Mediterranean sun, or go diving and sink to the seabed behind the wrecks of sunken ships and local treasures, or appreciate the privacy and remoteness from civilization and the hustle and bustle of the day.
Pictures of Malta beaches
Malta beaches