Holland beaches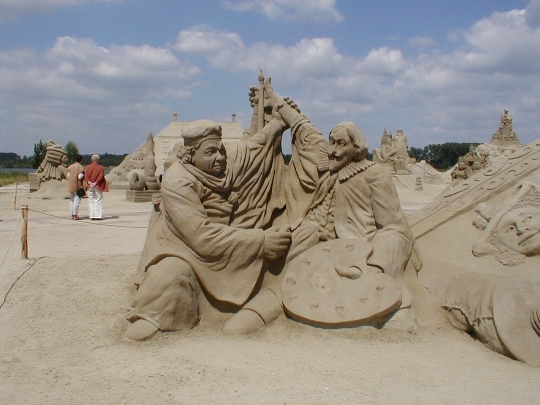 Despite the fairly northern latitudes and not too hot summers, the inhabitants of the Kingdom of the Netherlands love to spend time by the sea. They are not embarrassed that it is called the North, and the air temperature in it, even in July, does not rise above twenty Celsius. For tourists, the beaches of Holland are also of some interest. There you can observe interesting characters, taste seafood dishes in coastal restaurants, choose souvenirs and generally actively relax and even sunbathe..
Choosing a resort
The most popular resorts among the inhabitants of the Netherlands are sandy beaches with active entertainment:
Zandvoort Beach, half an hour's drive from Amsterdam, is famous for being chosen by nudists. However, traditional bathers are quite comfortable here, and a comfortable train departing from the central station of the Dutch capital runs every half hour and allows you to get to the surf very quickly. This beach has the prestigious Blue Flag Certificate, which makes it one of the most environmentally friendly places in Europe..
Scheveningen in the north of The Hague is a beach that is equally good in winter and summer. During the swimming season, here you can sunbathe and refresh yourself in the cool waves of the North Sea, and in winter and autumn - admire the amazing beauty of the snow-white dunes and drink mulled wine on the glazed terraces in the cafe. Fish restaurants offer a fantastic menu at any time of the year, widely representing both traditional Dutch cuisine and European delicacies.
The recreation area in the west of The Hague is Käikdown Beach. The nature here seems wild and unspoiled, but the superbly developed infrastructure allows guests to feel comfortable and cozy..
The beaches in Rotterdam are places for socializing and hanging out along the river. Parties and holidays are often held here, and in the summer season, the most stubborn ones manage to get quite a pleasant tan..
Active and athletic
The De Koog beach area on Tesel Island is especially suitable for fans of a healthy lifestyle. There are no cars in this area of ​​the kingdom, but catamarans and windsurfing, on the contrary, are very popular..
Duinrel Waterpark is a favorite vacation spot for both adults and young tourists. It welcomes guests in the northwest of The Hague in the Scheveningen beach area.
In May, the season for surfers and divers begins on the beaches of Holland. The most popular diving and surfing spots are the Grevelingen Coast and Domburg Beach.


Pictures of Holland beaches