Ski resorts in New Zealand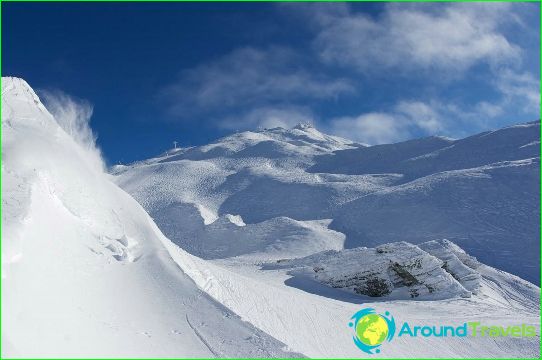 A country dominated by nature is called a small state in the Pacific Ocean. The most beautiful mountains and pristine lakes, national parks, which are simply breathtaking from the landscapes, and the opportunity to do all kinds of extreme recreation - from rafting down mountain rivers to diving to sunken ships. It is in New Zealand that fans of skiing and snowboarding have a chance to try to get a completely new sensation from skiing..
The resorts in this country are distinguished by highly technical equipment and comfort. The tracks are well-groomed, well-marked. Equipment rental is organized in all ski areas, and the season confidently lasts from June to September, when winter comes to New Zealand.
Turoa resort
On the southwestern slope of Mount Ruapehu lies one of the country's largest ski resorts, attracting skiers and boardwalkers of all skill levels. Borders prefer it because of the wide range of off-piste opportunities. In addition, Turoa has a good fan park and a half-pipe for practicing tricks and somersaults..
The ski area in the region is located at a level from 1600 to 2322 meters and has the largest vertical drop in the country. The season in Turoa lasts until October, starting in June, and the snow cover is up to two meters deep..
The total number of routes laid in the region is 17, of which one quarter is marked with black. The descent, which is considered the longest, stretches here for four kilometers. Beginners also have a place to exercise - the resort has several green slopes and a good ski school. Group tuition costs 25 NZD per hour, individual tuition - 70 NZD. Lift pass for skiing day will cost 72 NZD, 5 days - 320 NZD.
Treble Cone Resort
The best resort in New Zealand for experienced boarders is located on the South Island near the city of Wanaka. Treble Cone allows you to ski without hindrance from June to October with a snow height of more than three meters, the quality of which is maintained by 20 guns for every 50 hectares of ski area.
The most picturesque landscapes open from 2100 meters - the highest point of the resort. The difference in altitude on local slopes is more than 650 meters. Six lifts guarantee unhindered transport of athletes to the starting point, and almost half of the black-marked pistes here make the resort popular with true snowboarding and alpine skiing gurus..
Borders have a great time in a fan park with trumpets, kickers and other complex figures, or hone their skills on two local halfpipes, built with the quality and solidity of the locals..
Ski passes cost 90 and 300 NZD per day or five days, respectively. The hotel fund of the resort provides medium-sized double standard rooms for about $ 100 per night.
Resort Cardrona
This New Zealand ski region is nestled high in a valley in a mountain range on the South Island. The season here starts in mid-June and lasts until October. The ski areas are located at an altitude of 1600 to 1900 meters, and a total of 30 km of slopes of various categories of difficulty are equipped. Beginners and pros alike have the opportunity to warm up on 7 km of green and black slopes, respectively. Seven modern lifts have a capacity of up to 7000 people per hour.
Borders love Cardrona because of the well-equipped fan park with a traditional set of figures for practicing jumps and somersaults. In addition, the resort has built as many as four halfpipes of various sizes, which makes it possible to do what you love without queuing and hustle and bustle. Cardrona is also famous for its snow. It is especially dry and light here, and in combination with wide open slopes it serves as the best guarantee for organizing off-piste skiing..
Cardrona hotels are located right on the slopes, and the nearby cities of Queenstown and Wanaka are ready to welcome those athletes who did not have time to book a room at the resort. Lift pass for skiing day costs 94 NZD.
Mount Hutt Resort
This region is traditionally the very first to open the ski season in the country. It boasts the most stable snow cover and the highest quality FIS certified tracks, which qualify it to be included in the World Cup ski circuit..
The season starts at Mount Hutt in May and lasts until October. The slopes are located at an altitude of 1400 to 2075 meters and cover a total area of ​​more than 350 hectares, of which 42 hectares are subject to artificial snow cover in case of weather problems. The resort has a dozen lifts and equipment rental and repair.
A quarter of all slopes in the region are given to beginners and those who are not yet too confident in their abilities. The same number of slopes are marked as black and allow a real guru from snowboarding and alpine skiing to get their dose of adrenaline. By the way, board members feel great in the local fan park and on two excellent quality half-pipes..
Photos of New Zealand ski resorts