Ski resorts in South Korea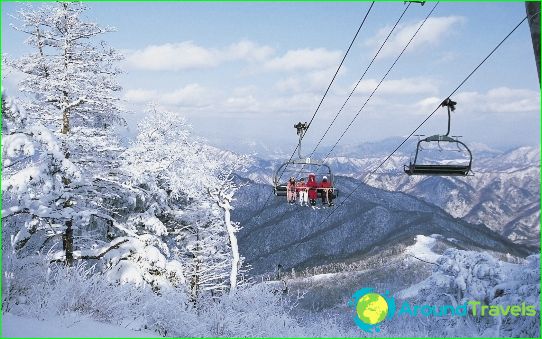 Quite recently, winter sports fans have not even heard of the ski resorts of South Korea, and today its slopes attract tens of thousands of guests every year. The secret is simple: the ideal quality of the slopes, developed infrastructure, long season and affordable oriental exoticism.
Equipment and tracks
One of the most popular ski resorts in South Korea is Suanbo in the central part of the country. Its main feature is excellent snow cover, which allows the season to start in November..
The Muju resort has two dozen trails, of which seven are intended only for experienced athletes. Beginners can take lessons at the ski school here, and 13 lifts allow you to avoid the lines. It is here that the most famous Korean track, which is called the Silk Road, is laid. Its length is more than six kilometers..
The very first place to practice alpine skiing in South Korea was the Yongpyeong resort. On its 18 slopes, athletes are delivered by 15 lifts, and at the ski school you can take both private and collective lessons..
Phoenix Park, located at an altitude of 1000 meters, is one of the most respectable resorts in the country. There is always a lot of snow here, and the resort's 14 slopes are so diverse that they can accommodate both completely green skiers and winter sports gurus..
Hyundai Sonu is attractive not only for skiers, but also for boarders. For those who are a fan of snowboarding, the resort recommends its own snow park, which is equipped with an excellent half-pipe..
Star Hill is called the most youthful ski resort in South Korea, where prices are the most reasonable, and the slopes allow you to ski in the evenings, thanks to the illumination.
Entertainment and excursions
In addition to ideal trails and excellent organization of skiing or snowboarding, all resorts in South Korea offer an excellent tourist infrastructure. In hotels and ski centers, you can swim in a heated pool, visit any bath of your choice, dance in a disco, watch performances by folk art groups and play bowling.
Spa centers will help you recover from a long sports day, and sports clubs will keep those who prefer only to cheer for their fellow travelers on the slopes will not get bored. Many resorts in South Korea offer to rent skates and go to the skating rink, practice accuracy in archery or hitting a hole in a golf game..
Photos of South Korea's ski resorts