Provinces of Syria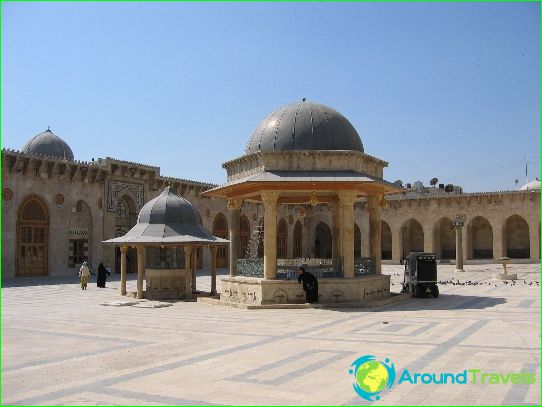 Damascus is the capital of Syria and is part of the province of the same name, located in the southwestern part of the state. It is known as one of the most ancient cities in the whole world. The past is connected with important events in the Bible: Cain killed Abel, King Nimrod found his refuge here, the Apostle Paul converted to Christianity.
«Old city» It is considered to be a special object, and this is confirmed by the fact that it is included in the UNESCO World Heritage List. The city attracts tourists with its Roman wall, antique quarters, ancient palaces, churches and mosques, tombs, medieval markets. You can visit the National Museum of Damascus, which contains unusual artifacts of ancient civilizations that existed in different regions from Mesopotamia to Phenicia. Walking in Damascus can be really fun.
Homs is a must-see
Homs is one of the best and most interesting cities in the province, located 160 kilometers north of Damascus. The city is divided into two parts by the Orontes River. The story began in 2300 BC, but during the existence of the Roman Empire, the city was known as Emesa, in biblical times - Kadesh. In 636 Emesa was conquered by the Arabs, who managed to give the city its present name. Nowadays, Homs attracts people with the Ibn al-Walid mosque, which consists of two minerals and the commander's tomb.
Why Latakia is attractive
Many provinces of Syria deserve the attention of tourists, but Latakia attracts the largest number of travelers from different countries of the world. How can this be explained?
The resorts are located in the hills and mountains along the coast. Everyone can enjoy the clean sea air, favorable climate.
Latakia beaches are amazingly comfortable, so they are suitable even for families with children. Big waves are rare, so swimming is a real pleasure. It should be noted that the water is crystal clear. Beach season starts in May and ends in November.
Latakia is famous for its sights: the colonnade of Bacchus, which belonged to the temple of Adonis; Roman arch of the 2nd century AD; churches of the 5th - 6th centuries.
Latakia attracts tourists with hotels that are famous for their good level of service. Many hotel complexes have 4 - 5 «stars».
Photos of the provinces of Syria