We continued our hiking trip. The higher into the Altai mountains, the colder it is. The weather almost did not spoil us. Snow gave way to rain, and the sun hardly showed up. All the warm clothes we took with us came in handy. We began to miss the heat that was below, and from which at first we languished. But, in spite of this, we regularly bathed ... Well, if it can be called bathing, we ran in and out with shouts and wide-open eyes. But I think the monument can already be erected.
This is a continuation of a hiking trip to the Altai mountains, and the beginning is here: Tourist hike to the Maashey glacier. Part 1.
How much joy and exultation there was when we found a plastic bottle with sugar. For some reason, no one thought to take it from home. And the sweet life began: porridge with sugar, cocoa with sugar ... More delicious than porridge than in the Altai mountains, I probably never ate. But I don't want this at all at home..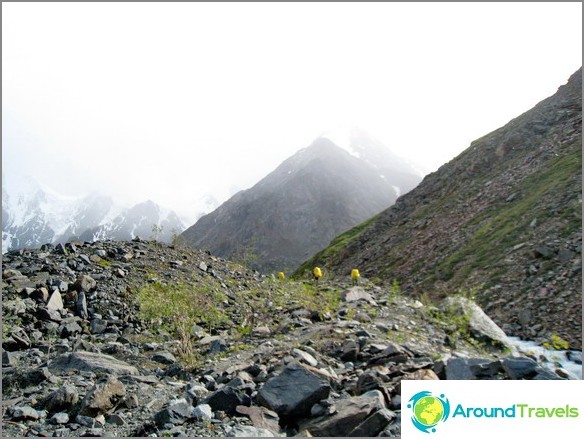 We climbed to an altitude of about 2500 meters, if the GPS did not lie, and camped there on the shore of a bluish-green lake with very tasty water. A small area, windless and with a bunch of Cheburashkas (mice with protruding ears). There was no firewood at all, as well as the trees from which they could be obtained. The burners were very useful, both for food and for sugrevu, they lit them in the vestibule of the tent.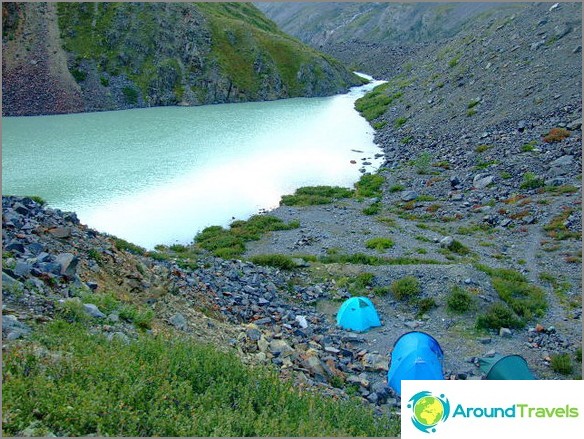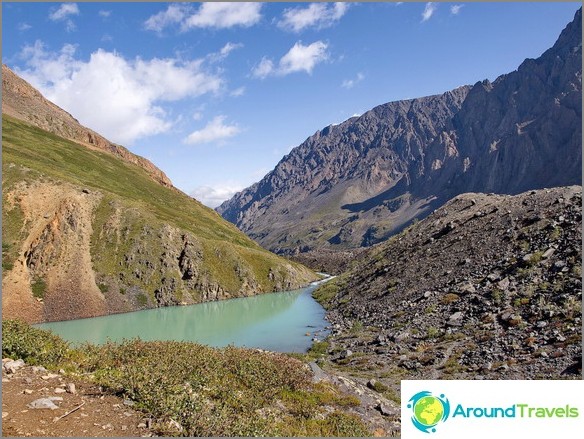 And actually next to it was what everything was for ... Glacier! Where we went the day after we set up camp. We were lucky, the sun came out for a couple of hours, to please us and warm us. It illuminated the surrounding Altai mountains, the Masha glacier. Before us appeared this ice colossus in all its glory, sparkling and iridescent. Here the river Maashei began. Very beautiful and intricate gutters water pushes through the ice. Ice is hard as stone, although from a distance it looks like ordinary snow.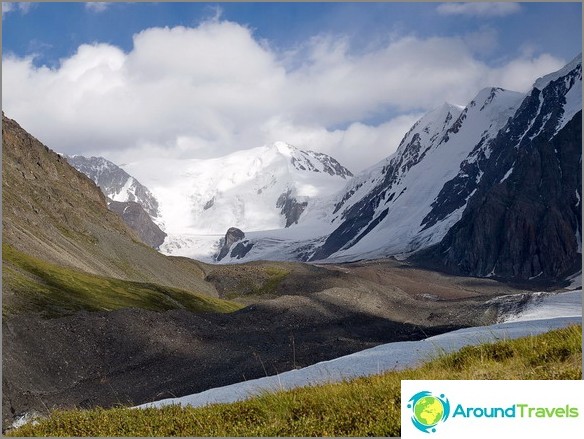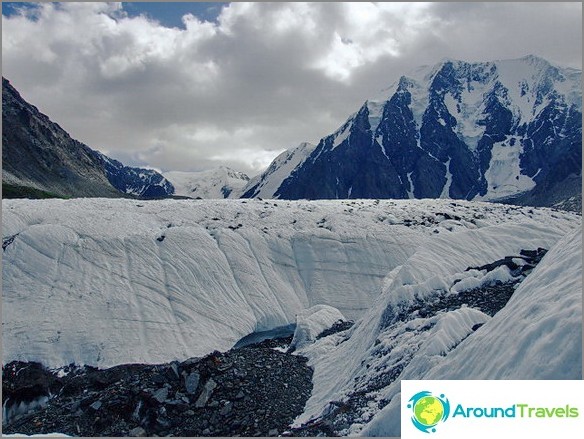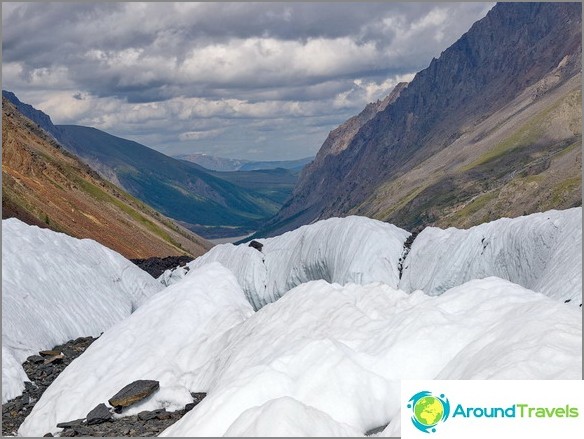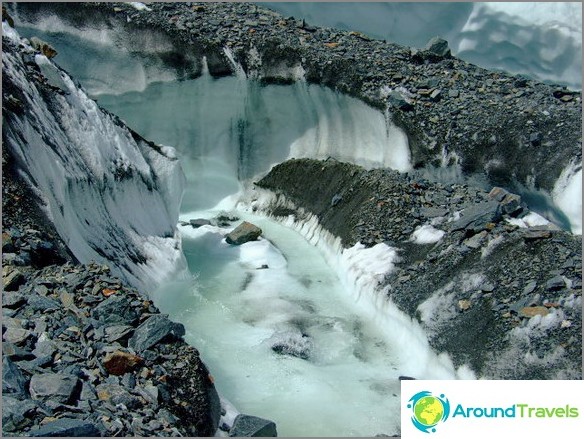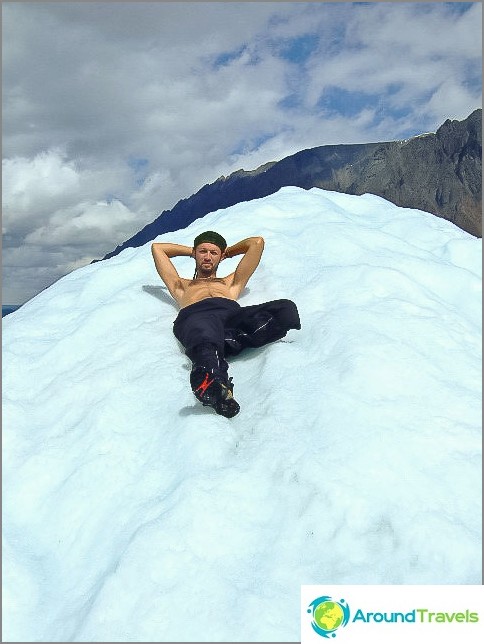 We smeared ourselves with sunscreen so as not to burn out, but some even this did not save. Cool and UV is strong. The solarium is resting, hello to burnt noses! Having sat on the glacier enough, we returned home.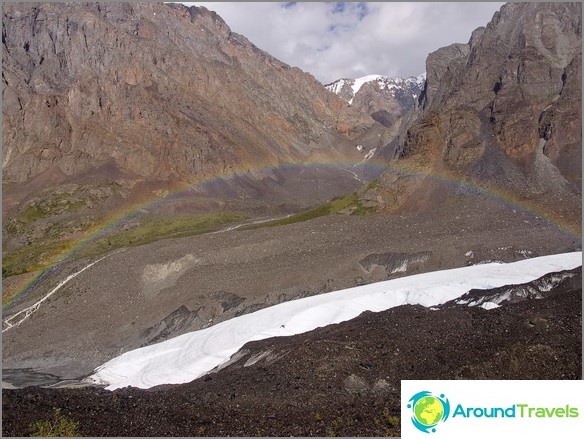 Towards evening we were covered with snow up to ... knee. Such are the unpredictable mountains of Altai. The real Russian winter began, it was damn beautiful, but horrible, how uncomfortable. The snow strove to fold our tent, and for half the night we fiercely fought the elements, shaking off the drifts from our awning, pulling the stretch marks, making additional supports. The draw won, we were just tired and weary calmly.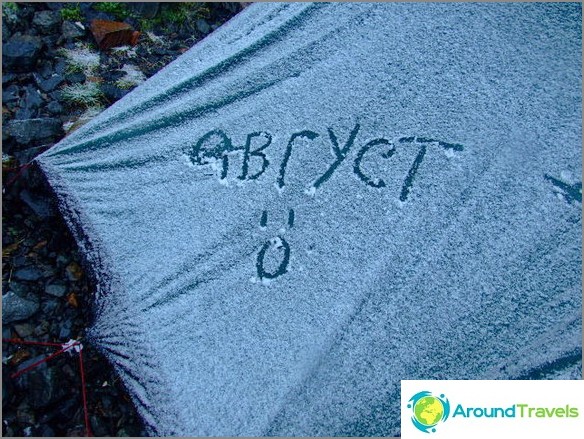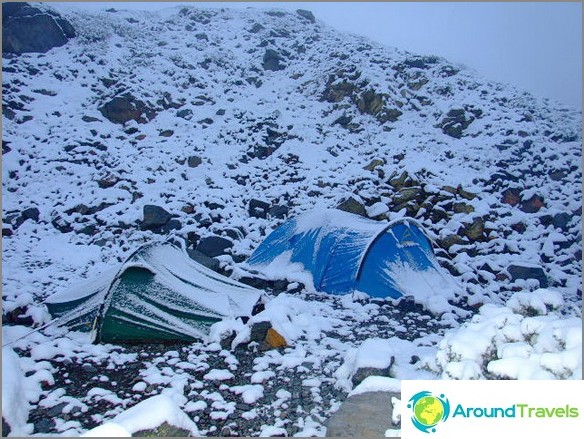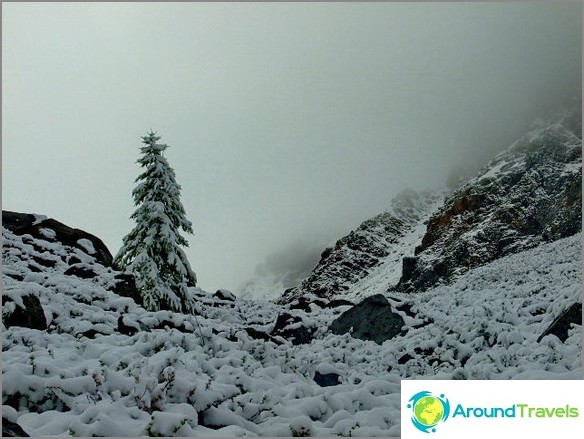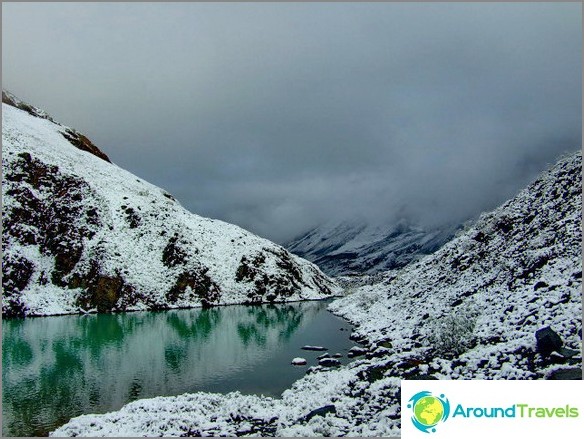 The return journey of our hiking trip followed the same route. They did not dare to go through the pass, and the equipment was not needed. We went down quickly, since going down is much easier than going up, it's logical, right? Although for those who have knee problems, not a fig is not logical. There was also a real incentive, the lower, the warmer. Although it became really warmer only near the track, at the end of the road. In the meantime, we had a few extra days left, which we devoted to thinking and eating the remains of the stash..
We returned to the starting point, to the unfinished hydroelectric power station. It seemed that I did not want to leave, but for some reason I was very much drawn home. Without much hesitation, we went out on the highway early in the morning and an hour later we successfully stopped the bus to Barnaul.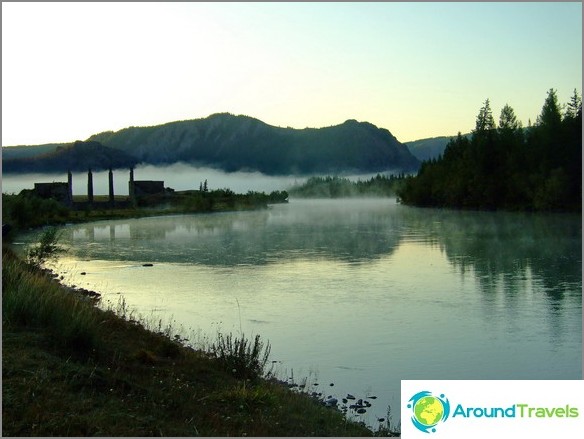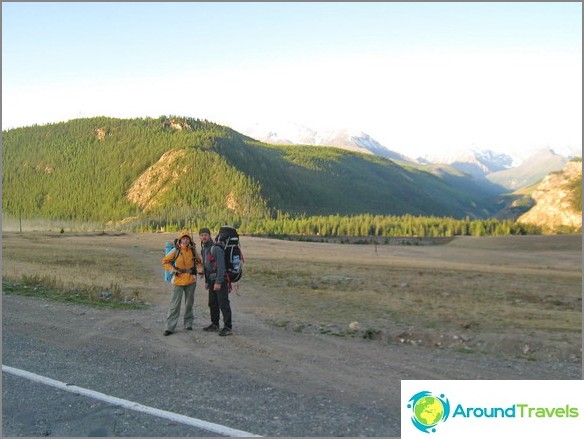 Since we did not have return train tickets, it was decided to go after Barnaul to Novosibirsk, since this is a major transport hub, and there we will definitely be able to purchase a ticket to Moscow. What was done, literally after 16 hours of driving «comfortable» bus, in the heat, and on top of each other, we were greeted by the cool night glorious city of Novosibirsk. Since we were lucky, and tickets were purchased without problems, the acquaintance with this city was limited to the train station and the nearest supermarket. Where lovely saleswomen looked with apprehension at two overgrown men, with hungry eyes, raking everything from the counters. By the way, for some reason they did not know what baklava and kozinaki are. Is this really not something they eat in Siberia??
Then there was a train, a feast, and discussions about where we were and what we saw. We never ceased to wonder what is so unusual in the Altai mountains, why people go there and go, many get sick with it for life. Mountains, rocks, cold stones, very sparse vegetation, far to go. Why? Isn't the Caucasus or the Carpathians better? And where is the promised energy in general? Where is the place of power?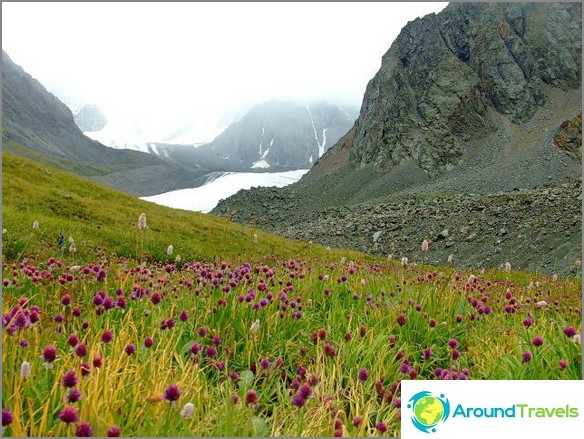 The arrival happened two weeks later and already in Moscow. One by one, we all realized that we got sick, got sick with the Altai mountains. And we really want to return there. An understanding has come of how energetically this place is, how special it is. Indeed, this is a place of power. Remembering our tourist trip, everyone made a conclusion for himself what it gave him. Everyone remembered some important moments for him and everyone understood that he had changed. Yes, we have changed and that's great!
Our route along the Altai Mountains to the Maashi (Mazhoy) glacier
P.S. I wrote a post separately, how to get to Altai.