The other day I returned from a mountain hike in the Crimea. I apologize to whom I could not immediately respond to comments. I'll tell you about the trip sometime later, when my thoughts settle down and the photographs are processed. It was an interesting experience for me - the first independent trip, when I myself was leading a group of people. For someone it's nonsense, but for me for the first time.
While I was away, my travel blog turned six months old. And I thought that maybe someone would be interested in what they managed to achieve during this time..
So my humble accomplishments.
Puzomerki: ТИЦ20, PR1.
The blog traffic is constantly changing, and amounts to 300-500 people per day.
The number of readers through feedburner fluctuates and is about 140 people. There are more than 2400 followers on Twitter. Honestly, I don't know how many of them are real, I think that there are a lot less.
The number of comments left on the blog minus my own is about 900.
The number of posts written up to this point - 52.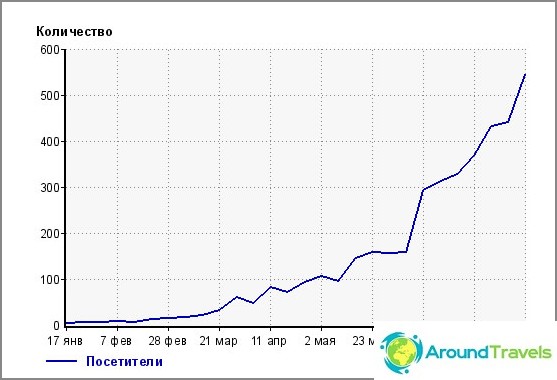 What else do they write there, gentlemen SEOs? And by the way, who knows how good / bad these are? Just keep in mind that this is my first blog and the first Internet project, and also that all the promotion was free of charge..
In the month of March of this year, I lost my job, and began to closely pursue my travel blog, as well as pursue my dream of seeing the world. I wrote about this in a post. Why am I blogging or a blogger's dream.
Where did I go during this time and where have I been?
1. By car to Estonia: Moscow-Tallinn.
2. By car during Mtsensk, and to the museum Yasnaya Polyana.
3. By car to Holy spring in Talezh.
4. Last minute tour in Egypt in Sharm El Sheikh. And there already on excursions to Cairo and to Egyptian pyramids, to the top mountains of moses in egypt.
5. By train Caucasus, and then with a short walk to Tuapse mountains, walking along wild beaches of Dzhanhot, and by mountains of Gelendzhik to the fortress where the Storm Gate was filmed.
6. I drove 1500 km on my own Turkey, having tried all types of transport, including hitchhiking. And visiting places like: Demre (Worlds), Olympus and Cirali, Kemer, Antalya, Side, Lake Beysehir, Goreme, Ankara, Karasu, Istanbul.
7. Went to mountain hike in Crimea.
Travels are quite modest, without exotic countries and continents. But agree, not bad for an ordinary unemployed person.
What's next?
And then everything will be the same, I will continue to travel, photograph and write.
Also at this stage I want to try to monetize the blog. I will add it to the Blogun and post the guards. It is he who is very often advised for this kind of earnings. I will also try to write and accept thematic articles from the miralinks article exchange. Perhaps I'll hang a donation bar, or a couple of banners. But in no case will I turn this site into an advertising platform, since this is primarily my hobby. And during these six months I have only confirmed my intention to continue to travel and write about it, as well as my intention to create and develop Internet projects.
As it turns out, a blog is a good way to organize yourself. Sometimes it was only thanks to him that trips were made, or photographs were taken. Also, a blog is good for understanding what you want in life and trying something new. In general, for myself, I consider the last six months a rather fruitful period in my life. So I wish all novice bloggers not to despair at the initial stages and develop their projects further..
P.S. Who has not yet taken part in my competition «Most memorable journey», hurry up! One month left before the deadline for accepting applications.