Holidays in Sukhumi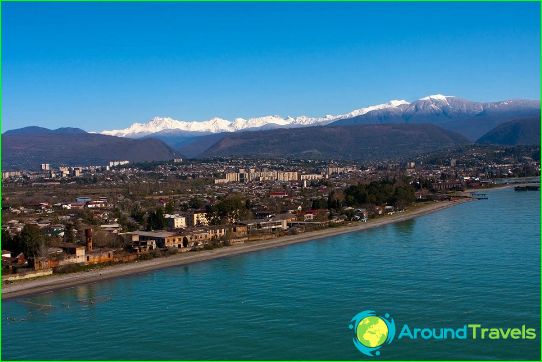 Holidays in Sukhumi - it is an opportunity to enjoy the beautiful nature (in the city of palms, oleanders, eucalyptus), sea air, warm sea, a variety of entertainment.
The main types of recreation in Sukhumi
Sightseeing: as part of tours you stroll along the promenade Muhajirs and the Park of Glory, as well as the Theater Square, decorated with fountains; You see Annunciation Cathedral, Lighthouse, Great Abkhaz wall, the ruins of the castle of Bagrat; visit the Abkhazian state museum, monkey nursery, botanical garden, on Basletskom bridge.
Beach: recreational perfect central beach, where the breakwaters are set overlooking the sea, cafe, catamaran rental, water attractions, as well as Agudzersky beach, which is equipped with cabanas and cafes. If you are not important convenience, you can go on a shingle "Dog" beach, located in the city center. Those wishing to relax on the sandy beach to visit Sinop Beach with a gentle entrance into the sea. There is everything for a comfortable stay - café, showers, sun lounger hire, water attractions.
Active: if you wish, you can ride on a banana boat or jet ski, go on a bike, walking, or walk on the boat, do snorkeling.
Wellness: for those wishing to improve their health in Sukhumi sanatorium has a swimming pool and a full range of treatment and prevention services (some are on the coast). It is worth noting that the most popular medical procedures are oil and herbal inhalation, mud and radon baths.
Prices for tours in Sukhumi
Vacationing in Sukhumi best from late May tothe beginning of October. In high season (June-August) is observed increase in the cost of permits on average by 15-20%. From the point of view of economy and comfortable weather in Sukhumi is to go in September-October (at that time the price of tours in Sukhumi very attractive). And renting housing in the private sector, you can save even more money.
On a note!
If you come to rest on his personalautomobile, it is required to register in the Abkhaz SAI, while paying a fee (the price depends on the brand of car). The criminal situation in Sukhumi pretty quiet, so the city can safely navigate in the evening and at night. But money and valuables it is advisable to deposit in the safe of the hotel or boarding house.
On holiday in the Abkhaz capital, is to bringspices, adjika, tea, herbs, honey, bamboo souvenirs, clay and woven twigs, bottles in the form of a dagger or sword, filled with chacha, wine or brandy, products from seashells and colored glass.
Photos rest in Sukhumi