The coast of Abkhazia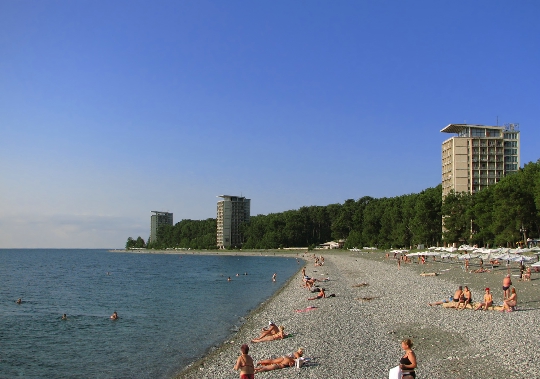 Rest on the coast of Abkhazia travelers will appreciate the relatively low prices: accommodation and meals at local resorts is cheaper than Russian resorts.
Abkhazian resorts on the coast (the benefits of rest)
The resorts of the Black Sea coast of Abkhazia youwill be able to enjoy high-quality beaches (swimming season - from May to October), come here for a spa treatment (in Sukhumi and Gagra there are large and resorts, using therapeutic mineral water), admire the waterfalls and ancient Christian churches, to explore the cave Krubera- Crow, conquer the mountain turbulent river raft during the tours.
Cities and resorts on the coast of Abkhazia
Pitsunda: offers central beach, equipped with changing rooms, showers, sun loungers and parasols (supporters of secluded relaxation advisable to stay in the western or eastern part of the coastline - is, as a rule, rests not so many people, and you can hide from the sun under the shade of pine forests). If you do not mind a rest on a nudist beach, looking between his pension "Pitius" and "Literary Fund". In addition, you can go to Pitsunda mini-cruise, explore the Cathedral of the X century, hang glide, take a trip to the waterfalls "Maiden's Tears" and "Men's tears".
Sukhumi: Resort offers central beach (equipped with breakwaters, attractions, cafes), beaches resorts "Strategic Missile" and "CVM" (on these sandy and pebbly beaches you will find a playground volleyball, beach chairs, umbrellas, showers, as well as be able to fly on a parachute - for the entrance to the beach will have to pay), arboretum, nursery monkeys, Bagrat castle.
Gagra: here you will find a water park with slides and a spiral slide, parallel paths, children's slides, swimming pools, sun beds for sunbathing; local climatic sanatorium "Amra", "Gagra", "name Chelyuskintsev" and will be able to explore the ruins of Abaata and the Prince of Oldenburg castle, go on a sea voyage on a motorized catamaran, on the central beach in New Gagra (nearby are tennis courts, a water park with water attractions, the stadium) and the beach in Old Gagra (suitable for a secluded holiday without the hustle and bustle).
New Athos: here you can explore the New Athos cave, spend time on the beaches of the hotel "The monastery" (sloping entrance to the sea, pebble, there are cafes, you can ride on a catamaran or banana) and the hotel "Mandarin" (there is a grocery store, rental point, where necessary should rent a kayak to ride along the beach).
Do you want to relax body and soul? Feel free to go to the resorts of the coast of Abkhazia.
Photo