Excursions in Brest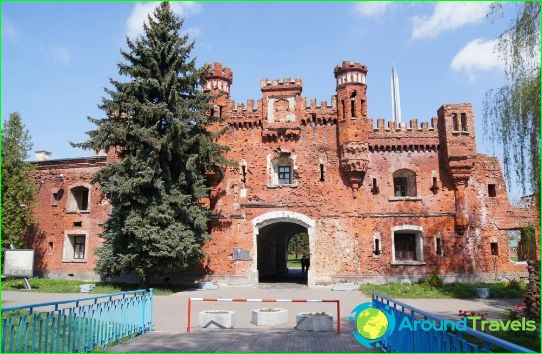 It is unlikely that the former Soviet Union therepeople have not heard of the glorious city of Brest. The city is located on the border of three countries: Belarus, Ukraine and Poland. Excursions in Brest acquaint travelers with the heroic history of the city, connected mainly with the events of the Great Patriotic War.
Popular excursions in Brest
Excursion to the Brest Fortress. Most tourists come to this city for the sake of Belarus visit the ruins of the fortress. The program includes a visit to the Museum of the Brest Fortress, memorial inspection, established in 1971 in memory of the defenders of the outpost. Brest Fortress - is not only a monument to the defenders of this unique architecture and fortifications. At the fortress there is an archaeological open-air museum. This ancient settlement was found in the excavations. It was decided to leave intact all the buildings, streets, bridges, the remains of a wooden fortress. there are values, seized from smugglers among several generations of museum exhibits.
Sightseeing tours in Brest. The purpose of the tour - familiarity with the city's history and current events. This tour covers the Holy Cross Church, St. Nicholas Church brotherhood, St. Simeon, Liberty Square. All these attractions - evidence of the transition of the city at different times in one state or the other. Tourists are able to visit the Museum of saved art values ​​and the Museum of railway equipment.
Familiarity with modern Brest. In the town in recent years, much attention is paid to the development of culture and sports. Built rowing canal, where competitions are held both domestic and international competitions. Sovetskaya Street - a model of peaceful neighborhood of modern high-tech buildings and buildings of the early twentieth century. And in the alley lamps should visit at sunset to see how lamplighter lights the lights manually.
Excursion to Bialowieza Forest. Bialowieza Forest - one of the most popular tourist destinations from Brest. It is the world-famous monument of nature, familiar to all those who come from the Soviet Union, of the famous song, registered in the UNESCO list. Bialowieza Forest is also the oldest nature reserve in the world. Over the years, the Reserve preserved in its original form, which is rare for central Europe. Walk through the Bialowieza Forest - an acquaintance with the life of the wild animals such as bison, wolves, lynx, deer and bears.
Brest welcomes guests from around the world and offers other tours that give an idea of ​​the beautiful and proud country of Belarus.
Photo Tour in Brest