Christmas in Istanbul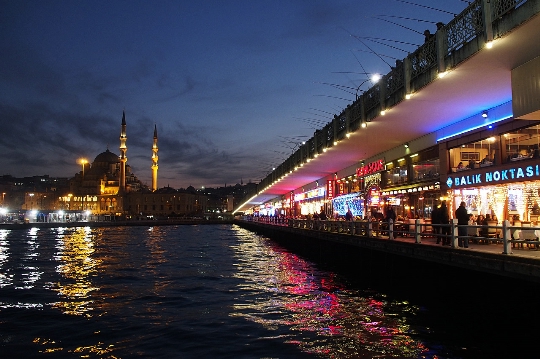 Noting Christmas Istanbul, travelers will be able to touch history and stroll around the city, as well as unusual to spend their leisure time.
Features Christmas celebrations in Istanbul
In a country such as the Christmas is celebrated - inThat day even work all the institutions, but New Year's Eve (Noel) Turks decorate the Christmas tree and give each other gifts, often in anticipation of the holiday can be seen decorated with illuminated streets and shopping centers.
It is worth noting that on Christmas Day in IstanbulIt comes a lot of Christian tourists, so Christians are preparing for the holiday stuffed turkey - housewives are served this dish family members and invited guests. If you are interested in festive lunches and dinners, at your service - the restaurant "Pop-up" (there is organized the program "The Night Before Christmas"). With the same purpose, you can head to the restaurant "Aqua", located in the hotel "Four Seasons" on the Bosphorus.
In addition, to plunge into the festive atmospheretourists will visit the night clubs, developing a festive menu and a special program as well as watching Turkish television (public holidays broadcast entertainment programs).
Entertainment and celebrations in Istanbul
A stay at the Christmas service can bethe churches of St. Anthony of Padua (service runs in English, Turkish and Italian), St. Mary Draperis (you will find a festive service and festive hymn), Saints Peter and Paul (service performed in Italian).
Finding himself on the Christmas holidays inIstanbul, travelers are advised to take a night boat ride on the Bosphorus - they will wait for dinner and interesting entertainment program. In addition, it is worth to visit the "Tour of the two continents" trips, involving a visit to the Blue Mosque, Church of St. Sophia, the Egyptian Bazaar, the Topkapi Palace.
Christmas fair in Istanbul
Traditional German Christmas Market(Starts to function on December 6 at Beyoglu district): here is to look for the purchase of jewelry, Christmas sweets, tasty souvenirs, handicrafts and Christmas decorations from Germany.
International Christmas Festival of WomenIstanbul (Hilton Convention Center, Taksim, Dec. 7): here you can buy Turkish souvenirs, and gifts from other countries. A younger guests will appreciate the special event area, where they will be waiting for Santa Claus.
On the eve of the New Year in Istanbul heldholiday sale, so you should indulge in shopping (do not forget to buy souvenirs and gifts not only themselves, but also a close), but also imperative to look at the Grand Bazaar to get carpets, ceramics, jewelery and other products (bargaining, can be reduced the price of the goods).
Photo