With this post I open the rubric of recommendations andtips on choosing equipment. In my opinion, there are two things that should not be greatly saved - a backpack and shoes. Since in one of them you have to walk all day, and carry the other on your beloved back for just as long. About shoes at another time, but today about how to choose a backpack for a hike. Remember, there are no universal backpacks! I myself have several backpacks of different sizes for different purposes.
The content of the article
How to choose a backpack
Backpack volume
First you need to determine the volume of the backpackmeasured in liters, and according to its purpose. The longer your trip, the larger the backpack should be. But, for example for climbing, they also use small backpacks, since the main things remain in the alpine camp. So the recommended volume of the backpack:
- For small outings on nature, for example, on weekends, a backpack of 40-50 liters, or so, will do.
- For hiking you need to look for something in the region of 70-100 liters. Women, as a rule, go with a backpack no more than 40-70 liters.
- For water and ski trips - 90-120 liters. Things here are much more.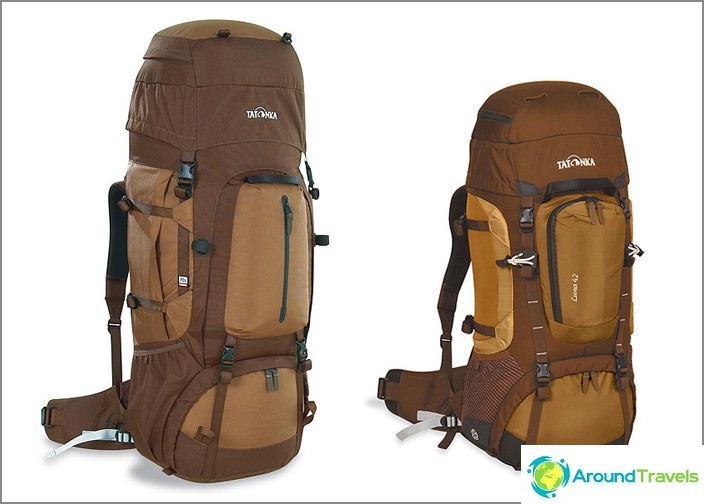 It makes sense to take someone's backpack andtry to fill it, and even better go with him on a hike. After that, you can immediately understand a lot for yourself. And how to choose a backpack, and what is a backpack for a hike. There is a saying that no matter how large the backpack is, it is always full. That is, the less you have a backpack, the less you will have to carry unnecessary things, but you need to know the measure.
The design of the correct backpacks
All modern designs are about the same, andWhen choosing a backpack for a hike, you must be guided by the mandatory presence of adjusting the back of a backpack for human growth and the presence of a waist belt. Try on the best loaded backpack, as the convenience of empty is difficult to assess. If the backpack does not have the above listed items, then this is not the correct backpack, spare your back and shoulders. The suspension system that suits you is the key to proper load distribution.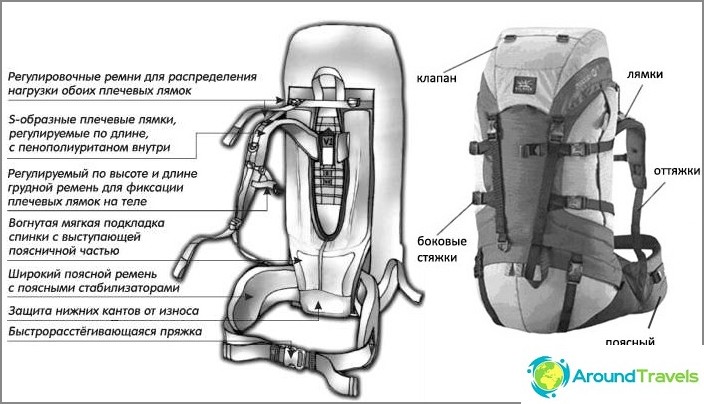 Important nuances
The lap belt should bear all the weight with proper adjustment. It should be slightly below the waist, on the protruding thigh bones.
Webbing should have been soft, but elastic, and not too thin.
The distance between the straps should correspond to the width of your shoulders - the straps should not crawl.
In the back of the backpack must be metal or plastic armor. Usually they are inside the back and are not visible.
Other points to pay attention to when choosing a backpack for hiking:
- Quick-release valve is better than sewn to a backpack.
- The presence of additional pockets is convenient, but for example, side pockets can interfere if you wade through the thicket.
- Side slings should be of such length that a rug or a small tent can be inserted there.
- Bottom compartment with separate access to it, almost all backpacks have, and it is very convenient to divide the internal space.
- Having a rain cover (rain cover) is good.
- The weight of a modern backpack is about 2.5 kg, if it weighs much more, then it is better to search.
- The fabric of the backpack should be strong, and the seams are well stitched. Well, when the bottom of the fabric of Cordura.
Budget and company
Most likely, the first backpack will not be the last. And after several hikes, you will know exactly what kind of hiking backpack you need. In the campaigns usually have someone to compare. Therefore, it is not always necessary to immediately buy famous brands and overpay.
You can buy an inexpensive Russian backpack, for exampleNovatour or Equipment, something cheaper is unlikely to last a long time. If the budget allows, then you can look at firms like Deuter and Tatonka, they make really good and sturdy backpacks. True, they are heavy (2-3 kg), there are a lot of bells and whistles. And if you are going on a serious and long hikes (a few weeks), then look out for something easier (lightweight versions weigh about 1 kg), in this case every gram is saved. From brand and lightweight, I like Thule.
There are a lot of companies that produce backpacks, andgo to choose and compare. And you can, if in your city there is Decathlon, order in it. There are fairly inexpensive and decent models from the same Quecha. For the first backpack and the first hike you just have enough choice in this store.
Life hacking - when ordering online on the website of Decathlon,but through Letyshop cashback service, there will be a 2.5-5% return for all goods. If you do not know, they have a delivery, so you can order everything home. By the way, there is not only Decathlon, but also a bunch of other stores.
If it seems to you that buy a backpack for the first timeIt's hard, remember, you don't buy it for the rest of your life and when you buy the second one, you will definitely be able to take into account all the nuances that were important to you. I mean, you have to try and get your own personal experience; nothing can replace it.
The evolution of my backpacks
I've been using hiking backpacks for 10 years,probably, if not more. And they are constantly changing. Some worn out, some just wanted to change. After all, if the backpack looks good, it is not a problem to sell.
Oleg: Novatour Slalom 40 => Novatour Canyon 70 => Loop Broadpeak 60-100 => Tatonka Isis 60 => Deuter AirContact Pro 65 + 15
Daria: Some noname => Loop Broadpeak 60-100 => Tatonka Luna 40 => Tatonka Isis 60
Below is still the old set, until we completely switched to Tatonka and Deuter.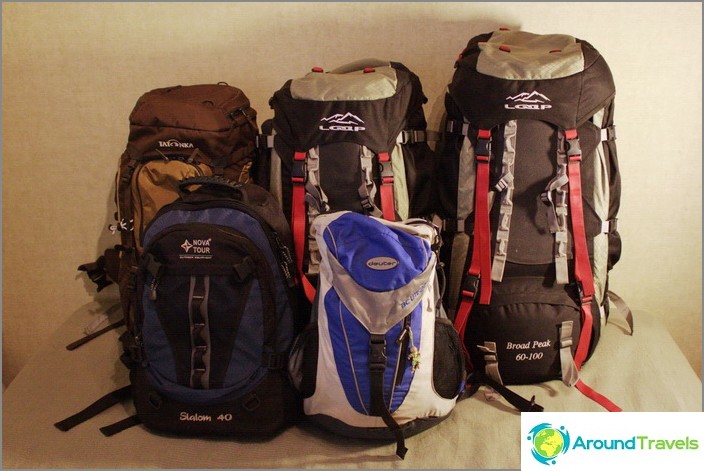 Life hacking 1 - how to buy a good insurance

Choosing insurance is now unrealistically difficult, so to help all travelers, I compile a rating. To do this, I constantly monitor forums, study insurance contracts and use insurance by myself.

Life hacking 2 - how to find a hotel 20% cheaper

First, choose a hotel on Booking. They have a good offer base, but the prices are NOT the best! The same hotel can often be found 20% cheaper in other systems through the RoomGuru service.

Discount hotels