Observation decks of Gagra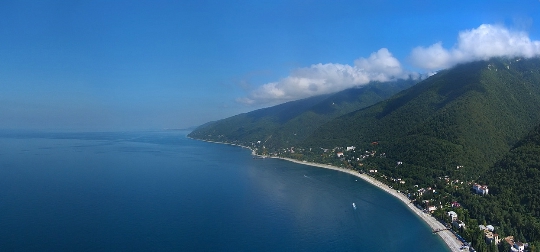 Gagra is surrounded by mountains covered with dense forests, so it is sheltered from the cold winds. This resort is ideal for children, youth, family and active recreation, because there are diving centers, and the castle of the Prince of Oldenburg (an example of the Art Nouveau style; its roof is covered with red tiles), and beautiful nature, and a water park (has 6 water slides and 7 swimming pools), and sports grounds. Another entertainment that tourists can afford is enjoying beautiful panoramic views (the observation decks of Gagra will help them to realize their plans).
Mount Mamdzishkha is the best observation deck of Gagra
The height of the mountain itself is more than 1800 m, and there are several viewing platforms equipped here, from where you can see not only the Black Sea, Gagra and its architecture, but also Pitsunda (armed with binoculars, you can even see the Sukhumi Cape):
The first platform (300 m above the ground) allows tourists to stand on an equipped balcony with a railing (in addition, they can have a snack in a cafe, ordering Caucasian cuisine from the menu).
The second platform (more than 900 m above the ground) is installed in the center of the serpentine loop that leads to the peak. It is worth noting that according to legend, a piece of cloth should be left on one of the nearby bushes - this should bring happiness.
You can come here on your own while walking or purchase a guided tour ("delivery" tourists to their destination are engaged in excursion minibuses). It should be noted that excursions to observation platforms are very popular in the evening - many travelers prefer to admire the sunsets of incredible beauty from a height.
Tsikherva river gorge
In some parts of the gorge (it is a natural border between Old and New Gagra; inside you can see a waterfall) there are observation platforms from which visitors can admire the Gagra, the Bzyb river valley, the Mussera river. Address: landmark - the building of the old school number 2, located at the intersection of Tsikherva and General Dbar streets.
Grill bar "Mojito"
Thanks to the panoramic windows, visitors will be able to enjoy the view of the coastal line of the sea. Here you can taste dishes cooked over charcoal, as well as watch the broadcast of sports and music programs on the big screen. Address: Nartaa street, 49.
Paragliding
Admire the surroundings and experience incredible sensations using a service such as a paragliding flight in Gagra. The flight, lasting 20-30 minutes, will start from the Mamdzyshkha mountain from a 1500-meter height (the cost of the flight is 3000 rubles; for an additional fee, a service in the form of video filming is provided).
Photos