Water parks in Gagra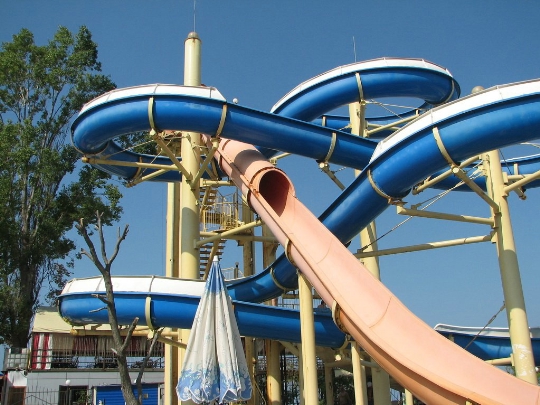 Arriving in Gagra, do not miss the opportunity to visit the best water park in Abkhazia, where there is no scorching sun, and the water is always warm.
Water park in Gagra
In the Gagrinsky water park (attractions operate from 10:00 to 19:00, address: Demerdzhipa street, 49), both extreme sportsmen and those who are just learning to swim will find something to do.
Guests are waiting here:
two seawater pools and five freshwater pools;
fountains and a giant mushroom, from the head of which streams of water flow down (you can stand under them if you wish);
children's pool, no more than 50 cm deep, with safe attractions;
children's area with a pirate ship;
twisted, high-speed, zigzag, dizzying slides ("Multislide", "Kamikaze", "Turn", "Wave");
cafe-bar with satellite TV (here you can order refreshing drinks or set meals, as well as enjoy ice cream).
And there are also changing rooms, storage rooms, bathrooms, showers, sun loungers, umbrellas, a first-aid post, and a parking lot. Those who wish can come to the water park after 20:00 - at this time the disco begins, and guests are delighted with live music and entertainment programs.
Prices: entrance ticket for adults - 800-900 rubles, and for 4-10-year-old children - 500-600 rubles (children under 4 years old - free).
Water activities in Gagra
Vacationers in Gagra are recommended to go kayaking and rafting, ride a banana (this entertainment can be found at almost every boarding house and hotel located on the coast) or jet ski, as well as go fishing or take a boat trip on a motor catamaran - this pastime can be combined with a picnic (cook barbecue and seafood on the fire, try the local chacha or wine).
Those interested in diving should know that they will be offered to dive from the beach of the boarding house "Nart". Briefing, preparation and immersion will take about an hour, and on average you will pay about 1,700 rubles for such entertainment. In addition, the organizers will be able to offer those who wish to take a photo and video of the dive (approximate cost of 500 rubles). And the dive can also be carried out in the White Rocks area in the village of Tsandripsh.
Do you prefer a secluded vacation without the hustle and bustle? Take a closer look at the pebble beaches in Old Gagra (you can calmly enjoy sunbathing and air baths). And if you are interested in active pastime, then you should visit the Central Beach in Novaya Gagra, next to which there is a stadium, a water park and tennis courts (you should also go here with children, since the beaches of Novaya Gagra are famous for their shallow water and smooth descent into the water, and , in addition, they are small-pebble with sandy areas).
Photos