The best resorts of Abkhazia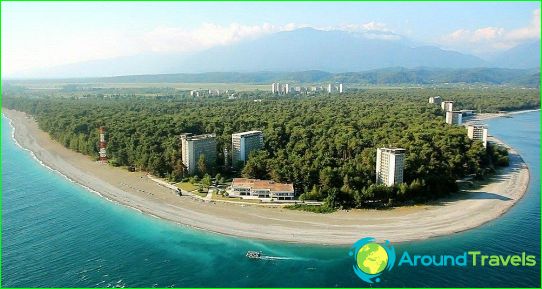 The pre-holiday season pleases not only with the expectation of vivid emotions and unique sensations, but also with pleasant troubles associated with the choice of the venue. Rest in Abkhazia will surprise you with its novelty and fill the dullness of working days with a supply of sun and heat for the whole year. The best resorts of Abkhazia will not disappoint expectations and will surprise even the most sophisticated tourist.
Sukhumi
Sukhumi is the most visited resort in the country. The climatic features of this resort town will delight you with its constancy. The rays of the hot sun are softened by the pleasant coolness of the sea breeze. The convenient location of the city gives you a constant opportunity to enjoy the view of the seascapes and delight yourself with fresh sensations that only the sea can give.
Blooming land - this is how you can still characterize Sukhumi. The abundance of lush vegetation, clean mountain air and the absence of a crowded crowd make it an ideal place for family vacations. The distinctive and graceful architecture will complement the overall picture of a hospitable resort.
Gagra
Gagra is the place most remembered by immigrants from the Union countries. It is surprising that most people do not even know that this magnificent resort is located in Abkhazia..
Gagra is a city located in an advantageous place from a climatic point of view. The Psou and Bzyb rivers surrounding the city make it unique. Mild weather conditions, beautiful landscapes, a series of cozy bays and beautiful beaches attract not only lovers of quiet rest, but also young people.
Historical places, an abundance of greenery will delight the eye of anyone. Here you can not only completely immerse yourself in the atmosphere of relaxation, but also improve your health..
Pitsunda
Pitsunda is a place with amazingly clean ecology, which is a huge rarity in the modern world. Water, air and surrounding natural beauty - all of this has fully preserved its original appearance and will surprise with its purity. The pine reserve will give you coolness, and the mixture of sea and mountain air, saturated with ozone, will give not only spiritual harmony, but also have a beneficial effect on health..
Gudauta
Gudauta is a small, homely, cozy town, the straight streets of which will certainly lead you to the seashore. Gudauta is famous for its old quarters, which inspire tranquility and give the feeling of a smooth flow of time. Mountain landscapes and many ancient legends associated with this resort will remain in your memory for a long time..
The best resorts of Abkhazia will be remembered by every vacationer and will cause the desire to once again return to the country, which is rightfully the pearl of the Black Sea coast.
Abkhazia is the country of the soul
Photos of the resorts of Abkhazia