Resorts of Abkhazia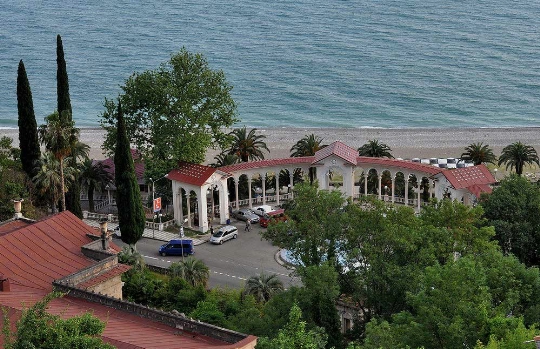 Small hospitable Abkhazia has long and successfully competed in the tourism market with other resort powers. However, she has few rivals, because no Africa or Asia is capable of giving guests so much genuine warmth, soulfulness and splendid landscapes as the resorts of Abkhazia. The emerald greens of the subtropics here successfully harmonize with the endless sea blue, and the aroma of barbecue in each restaurant invites you to look under the cozy shade of the pine trees and taste the specialties of local chefs and drink a glass of homemade grape wine.
Always in the TOP
The names of the best resorts in Abkhazia are heard by every fan of inexpensive rest on the Black Sea coast:
Founded by the ancient Greeks, this city turned into a tourist paradise at the end of the 19th century. Prince of Oldenburg made a lot of effort to make Gagra a favorite vacation spot for the Russian aristocracy. Since then, a lot of water has flown under the bridge, and today thousands of families with children and newlyweds, travelers of golden age and active youth come to the famous Abkhaz resort, because all conditions have been created in Gagra for a comfortable and varied summer vacation or vacation..
Pitsunda is more suitable for those who value comfort, silence and some privacy. Pine groves frame a clean pebble beach, and the air here is so healthy that you don't even need to order special treatment in the sanatoriums. However, boarding houses of Pitsunda willingly accept everyone who wants not only to sunbathe, but also to heal. Experienced doctors help patients with respiratory and musculoskeletal diseases.
Hotels and boarding houses of the resort of Abkhazia are scattered on the tangerine and lemon hills, even the name of which has a calm and pleasant rest. The main Christian shrines of the republic are concentrated in New Athos, and therefore the beach and the sea here can be combined with a pilgrimage tour to old monasteries.
Metropolitan things
The administrative center of Abkhazia, the city of Sukhum, recently celebrated its important anniversary - 2500 years since its foundation. Holidays in Sukhum are chosen by fans of historical sights and educational excursions. The local beaches are well equipped, active tourists have the opportunity to do water sports, and local balneological health resorts allow combining sunbathing with healing healing waters of thermal springs..
The pearls of this resort of Abkhazia, which no tourist can do without visiting, are the Botanical Garden, founded in the first half of the 19th century, and the monkey nursery, which opened in 1927..
Abkhazia is the country of the soul
Photos