Culture of Abkhazia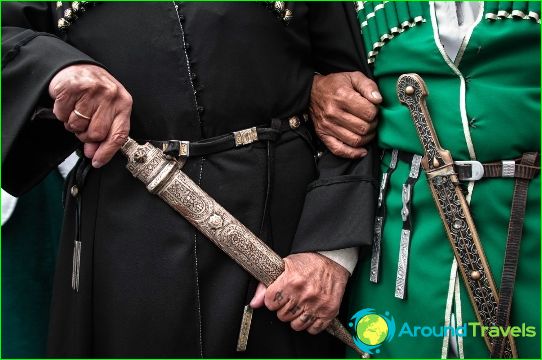 Since ancient times, the culture of Abkhazia has carried the originality and uniqueness of its people, which for centuries have carefully preserved their customs and national traditions. The inhabitants of this country have at the heart of everything a kind of code of honor, which is called "Apsuara". According to this code, Abkhazians have a special form of manifestation of national identity. In other words, "Apsuara" is a collection of folk knowledge, values ​​and rules, customs and principles of the indigenous people of Abkhazia.
Singing people
Abkhazians know how and love to sing. Music is one of the main components of their life, and therefore folk songs can be used to study the history and culture of Abkhazia. The combination of melody and recitative forms the basis of folk singing, and polyphony is an important distinctive element of it..
Musical instruments on which the inhabitants of Abkhazia accompany singers and dancers have come to our time from time immemorial. They are wind and plucked, strings and percussion. The most famous and popular: the corner harp, a single-barrel flute with three holes, rattles with which they scared birds from the fields, and an adaul drum, which served as the main accompaniment to the dancers. By the way, the art of dancing in the country is unusually developed, and each village has its own ensemble, demonstrating their skills at weddings, festivities and celebrations. Folklore dances are often accompanied by a demonstration of dexterous handling of cold weapons.
Monasteries of Abkhazia
A significant role in the preservation and development of the culture of Abkhazia was played by Orthodox monasteries on its territory, where crafts and applied arts have been developing for a long time. The monks were engaged in the manufacture of utensils, icon painting, and the creation of frescoes. The most famous monasteries still operate here:
The New Athos Monastery was founded in 1875 by monks from Greece. They arrived from the monastery of St. Panteleimon from Old Athos and started building the monastery. To clear the site, a part of the mountain was cut, where the monastery is located today. Not far from the monastery, there is a cave for the prayers of Simon Canait.
The tomb of St. John Chrysostom is the main relic of the monastery in the village of Koman. It was founded in the XI century, and today, near the stone tomb of the saint, there is an icon that stores a particle of his relics..
The Dranda monastery in honor of the Dormition of the Mother of God was founded at the end of the 19th century. The main architectural attraction is the Assumption Cathedral of the 6th century, at which the monastery was opened.
Photos