Diving in Abkhazia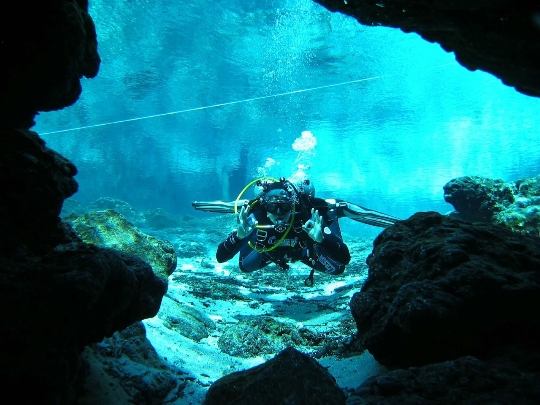 Abkhazia is a beautiful resort country. Here you can not only have a great rest, but also admire the underwater beauty. Diving in Abkhazia is quite interesting and varied. Let's take a look at the most popular dive sites.
Sukhumi
The water area of ​​the city will especially appeal to fans of underwater adventures. Once, and this is already 2000 years ago, the city of Dioscuria was located on the site of the modern capital of the country. He was one of the Greek colonies. If you believe the legend, then the name was given to him by Castor and Pollux - the children of the nymph Leda.
Of course, the city was destroyed, but its main part went under water. To see this ancient miracle, you need to dive to a relatively shallow depth. Only 15 meters away, so even novice divers can appreciate the underwater ruins. Here you can also visit the wreck - a warship sunk during the Second World War..
Lake Ritsa
The lake is considered a visiting card of Abkhazia and, moreover, it is very popular with divers. The reservoir is located in the mountains, about 950 meters above the sea. The area is very beautiful here: high mountains covered with dense forest.
The surface of the lake never freezes, and in summer the water warms up to +20. The maximum depth here is 150 meters, but no one ever goes so deep. Diving is only allowed up to a level of 90 meters. The lake water has an interesting greenish-blue hue and at the same time a good transparency indicator. When submerged, visibility reaches 10 meters.
Pitsunda
Wonderful Abkhazian resort town. The area was inhabited already in the 4th century BC. There was a large ancient Greek port city - Pitiunt. Most of its ruins are still at the bottom of Pitsunda Bay..
Blue Lake
Another diving attraction of Abkhazia. The lake can be found on the way to another equally famous lake, Ritsa. A small mirror of the lake is located among high rocks. Especially unusual is the water itself of an amazing bright blue color. It was this shade that gave the name to the reservoir..
Divers will be especially interested in examining its bottom. The maximum depth is no more than 25 meters. The lake is a large sinkhole. The entire bottom surface is covered with lapis lazuli, which gives the water such an unusual color. And what is especially important - the color of the water never changes, remaining bright and saturated. Blue Lake water is very cold. If on the surface it is +14, then at the bottom it is only +6.
New Athos
Here you can see the ruins of the ancient city of Anakopia. The waters of the Black Sea in this area keep at their bottom many items belonging to the times of Dioscuria. That is why the local diving will turn out to be surprisingly informative and interesting..
Photos