Provinces of Afghanistan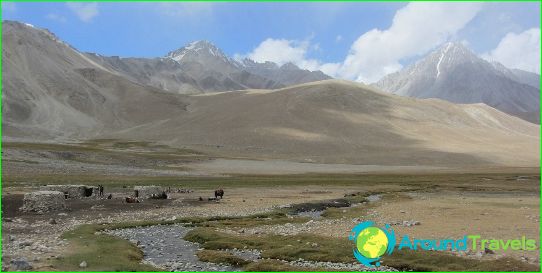 Afghanistan is a long-suffering state that has been in a difficult position between war and peace for a long time. Tourists so far bypass it with their attention, fearing for the lives of their loved ones. We can only hope that this small Asian country has a happy peaceful life ahead, and the provinces of Afghanistan will still be able to surprise tourists with exotic and national cuisine..
Northernmost province
This is Badakhshan, whose territories are located in the north of Afghanistan. Most of it is mountainous terrain, the most beautiful ranges of the Pamirs and Hindu Kush, meadows resembling alpine, deserts located at high altitude.
Lost shrine
Seven centuries ago, the main city of Afghanistan was named among the most beautiful on the planet. Even the name had a picturesque decoding - «water between flowers», for city quarters were located in the valley and in the spring they hid in lush vegetation.
In addition to external beauty and attractiveness, Kabul was a major cultural center. Now only ruins and traces remain of the former greatness. Many of the monuments of ancient history and culture of Kabul have been preserved thanks to the dedicated work of the staff of the National Museum of Afghanistan..
Another beautiful place is located in the vicinity of the capital - Babur's Garden, which got its name in honor of the first owner. Carefully thought-out planting, a system of beautiful cascades, unique and rare plants, many of them brought from distant countries - the pride of Afghanistan.
Cypress oasis
Most of the territory of the Kandahar province is occupied by the Bakwee Desert, which greatly complicates the existence of local residents. Therefore, most of the population is concentrated around the capital, which has the same name as the province. The main city of Kandahar is located in the heart of an oasis that amazes with flowering mulberries and emerald beauty of slender cypresses..
Jam minaret
In the northwestern part of Afghanistan, there is a unique religious building, a minaret, the construction of which dates back to the XII century. This historical monument was created by the hands of great masters who used a completely ordinary material - burnt clay..
Many historians believe that the Jam minaret is the only surviving structure of the city of Firuzkukh that has disappeared from the face of the earth. The monument of Afghan history is taken under the protection of UNESCO specialists, it is located in an inaccessible place, in a gorge surrounded by mountain ranges.
Photos of Afghanistan provinces