Culture of Armenia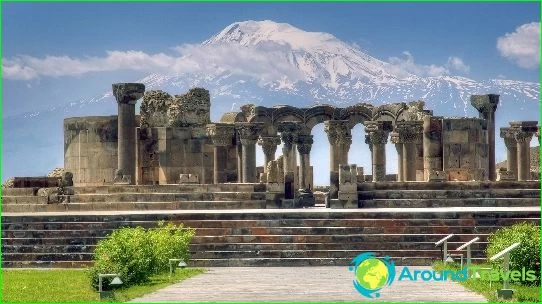 The initial stage of the formation of the culture of Armenia dates back to the 6th century BC. The traditions established in the ancient state of Urartu make it possible to consider Armenia as one of the centers of human civilization of international importance. An important impetus for the development of the culture of Armenia was its adoption in the 4th century AD. Christianity as the main religion.
Alphabet and Literature
The language in which the greatest works of Armenian literature are written is considered one of the most ancient written ones. The Armenian alphabet has existed without significant changes since the 5th century, and at the same time the period of scientific study of the language began.
In the 12th century, a spelling dictionary was created, and three hundred years later, the first books published in Armenian appeared..
Music of the Armenian people
The emergence and development of music is an integral part of the culture of Armenia. Already in the 4th century, high school students studied singing. A hundred years later, the art of making hymns began to take shape. The theory of acoustics developed in Armenia in the Middle Ages and the formed system of musical notation allowed musicians to create real masterpieces. The most striking examples of the creativity of ashugs - poets-bards who perform songs of their own composition at the holidays have survived to this day..
In the early 1920s, a conservatory was opened in Yerevan and a symphony orchestra was created. A few years later, the world gets acquainted with the work of Aram Khachaturian, whose "Dance with Sabers" becomes one of the most recognizable musical works of world significance..
Greatness through the ages
The architectural features of the Armenian buildings are simplicity and grandeur at the same time. Temples and houses were built on the territory of the Armenian state for many centuries, and historians consider the Garni Temple, erected shortly after the onset of a new era, to be the most significant monument of ancient builders. No less significant are the buildings of the ancient capital of Artashat, which is called "Armenian Carthage".
A must-see for a traveler in Armenia is also recommended its famous temples, the likes of which do not exist anywhere else in the world:
Echmiadzin is the Holy Mother See Church. located in Vagharshapat and is the throne of the Catholicos of All Armenians. Its construction dates back to the 4th-5th centuries, which makes it one of the oldest Orthodox on the planet..
Church of St. John the Baptist, erected in the village of Byurakan in the 10th century. Numerous khachkars - carved steles with images of a cross - are located around the temple in large numbers.
Armenian Apostolic Church Vahramashen, built in the 11th century on the slope of Mount Aragats by Ashot Iron.
Photos