Sydney airport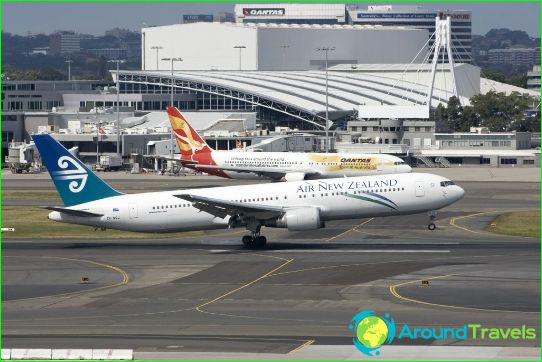 Kingsford Smith Airport is located in the largest city in Australia - Sydney. This airport is considered one of the oldest and largest airports in the world. Despite its age, the airport provides a high-quality organization of services thanks to constant upgrades.
More than 32 million passengers are served here annually and more than 300 thousand take-offs and landings are made. The airport operates three runways with a length of 2529, 2438 and 3968 meters.
The airport is capable of serving all types of aircraft, including the world's largest aircraft Airbus A380.
It should be said that the airport does not send or receive flights from 11 pm to 6 am.
Terminals
Sydney Airport has 3 active terminals:
Terminal 1 is used for international flights. It is in this terminal that the Airbus A380 is serviced. It has 25 bridges and 12 baggage carousels in the terminal building. The terminal has been in use since 1970.
Terminal 2 is used exclusively for domestic flights.
Terminal 3 was previously occupied by the main passenger terminal, which was replaced by Terminal 1. Terminal 3 is also used for domestic flights, most of the flights are operated by Qantas
Services
Various services are available for passengers in the terminals that may be needed on the road.
Standard services include: cafes and restaurants, ATMs, post office, luggage storage, shops, etc..
There is a deluxe lounge for business class passengers. For children there are playrooms and a mother-and-child room.
Transport
There are several ways to get from the airport to Sydney:
The State Transit Airport bus is bright green. Buses leave for the city every 20 minutes, and the ticket costs around $ 7. It will take about an hour on the way.
Train - All three terminals have a train station. The Airport Link train takes you to the city center for $ 16.
A taxi will take the passenger to the city center in about 15 minutes. The cost of the trip will be about $ 13.
In addition, car rental companies operate on the territory of the airport. Therefore, you can reach the city on your own..
Sydney airport photos